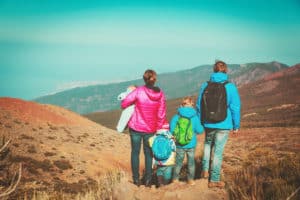 What if traveling with young kids is not only possible but GOOD for your whole family?
My husband and I were giddy newlyweds when we first heard this advice…
"You better travel now, because once you have kids, you won't be traveling anymore for QUITE a while."
To be honest, I get a little annoyed every time I hear this. I know people mean well when they say it, but it's simply not true. But for some reason, a lot of people have bought into the idea that you can't…or shouldn't travel when your kids are young.
But that couldn't be farther from the truth.
Can You Travel the World with Kids?
Traveling with kids is not only feasible, but it has the potential to benefit ALL members of your family in the process!
I have always LOVED traveling. My family didn't have a lot of money growing up, but we always took a vacation every year. It usually involved piling into our powder blue station wagon, each of us with a backpack full of books & toys and those little car bingo cards with the red sliders for when you spot a stop sign or gas station.
My Dad would surprise each of us with a new magazine to peruse and my mom would announce that "this car is our home for the WHOLE day, so get comfortable!" We'd pull out of our driveway and make the 8-hour drive to upstate New York to stay with my grandparents for the week or to Lancaster, PA to visit my cousins.
It wasn't fancy, but I loved it anyway. Our travels stirred up a love for adventure and exploration in me that led me to fly to Cancun at age 16 with a team to help an organization that created a home for orphans. It also inspired me to spend a summer studying abroad in Spain during college. My love for traveling has only grown over the years and with it all kinds of experiences, skills and increasing appreciation for other people, foods and cultures around the world.
So when my husband and I first received this wonderful "advice" to enjoy traveling now because once we have kids, those days are over, we had a very different reaction.
We decided right then and there that we would buck the trend and travel with kids, no matter what. Yes, it may be messy, inconvenient, and not quite the same as traveling without kids, but we were going to do it anyway…and I'm SO glad we did.
What you rarely hear from people is that the BENEFITS of traveling with kids FAR OUTWEIGH the challenges. And here's what's interesting….the challenges are actually a huge part of what produces many of the benefits!
So check out these amazing benefits of traveling with kids and get ready to book your next trip!
1. Traveling Strengthens Your Family Bond & Your Marriage
There are few times in your family's regular schedule in which you get to spend the amount of quality time together that you get when you travel. For a concentrated period of time, you're able to get away from the daily routines & responsibilities that usually hold your attention and you get to be together, explore together, and even navigate challenges together.
This extra quality time together, especially when paired with new experiences, creates a stronger relational bond. It also provides opportunities to practice teamwork as you navigate new places and situations together. By inviting your kids into the process, not only will they gain useful life skills, but this will further serve to strengthen your family bond and sense of being on the same team.
Traveling is also a great way to strengthen your marriage! Take advantage of car rides or trips to the park to communicate more frequently and more deeply with your spouse. Being away from work and the home gives you a chance to focus on each other and bond as the "adults" on the trip. Check out this free list of 25 Conversation Starters to get your family connecting!
2. It Builds Shared History & Hilarious Family Stories
When times are tough, one of the best things we can do is to rehearse our positive experiences and remind ourselves of times of joy, connection, and shared meaning. Family vacations and trips create lasting memories because they involve breaking out of the "norm" of family life and spending focused time together, sharing new experiences, and living adventures as a family.
All of these things tend to "stick" in your brain thanks to the stronger experience of emotions. Every year on our anniversary, my husband and I take some time to reflect on our years together and share some of our favorite stories & experiences over the years. And the trips and vacations we've taken together always top the list of our favorite memories.
Sure, things go wrong on vacation, but often times the challenges or issues we face while traveling become some of the best parts of our memories! They become a shared story of how you solved a problem or tackled an obstacle or simply survived something together as a team. Or they just become a hilarious story you'll laugh at for years to come.
Some of our favorite vacations involve a crazy story…like the time we packed our giant hiking backpacks and went to Europe and then I got a kidney infection and couldn't carry my pack, so Michael had to wear his giant pack on his back and my giant pack on his front. Or the time Michael got kicked out of Stonehenge for crossing the boundary line.
Don't be afraid of things going wrong on your trip. They will. But the good thing is that going through the challenges together becomes an important part of your family history!
3. You Get to Fulfill Your Travel Dreams NOW
I love traveling so much that, when I thought about waiting until my kids were grown to explore the world again, I immediately felt claustrophobic. I love seeing retirees traveling the world and enjoying it. But none of us is promised tomorrow. Don't miss the chance to see the world now, in your 20's, 30's & 40's when you have more energy and built-in sparkers of curiosity (aka, kids). You'll be SO glad you did.
4. You Get All Kinds of Special Perks
I have waited in many an enormously long line waiting to get through airport security. There's nothing like having that nice cushion of extra time you allowed entirely eaten up waiting to take off your shoes, making sure you don't have a nail file hidden in your purse and hoping you're not the random passenger chosen for a public pat-down, only to end up running the rest of the way to your gate and praying your plane doesn't leave without you.
So as my husband and I pushed our 3-year old in a stroller into the airport a few years back and laid eyes on the crazy long line, winding itself around the airport, we braced ourselves and wondered what we had gotten ourselves into. Then, out of the blue, a TSA worker waved us over and pointed to a special entrance with…you got it…no line at all. "Go, ahead," he smiled. "You've got a kid, so you can skip the line." Did I mention we didn't even have to take off our shoes?
This is one of MANY special extras you'll find when traveling with kids. From pre-boarding to special escorts, to family discounts, kids flying & riding free, and all kinds of freebies. Not to mention that everywhere you go, it's easier to make friends and build trust when you're carrying adorable children. People will hold doors for you, help carry your stuff and give you discounts simply for having children.
5. It Awakens Your Sense of Wonder & Childlike Adventure
My husband and I just took our kids to New York City for a couple of days. We've been there before, but this was both of our daughters' first time. As you can imagine, there are a TON of amazing things to see…from the best art museum in the country to stunning theaters along Broadway and everything in between. Do you know what our kids were most excited about? The pigeons. Everywhere we walked, they excitedly pointed out every pigeon, chasing them, waving to them and watching their every move with childlike awe and wonder.
One of the things I love most about traveling with kids is that they remind you how truly amazing the simple things in life are. Instead of getting stuck in a snobby comparison of coffee shops (although we do that too), we get to experience the wonders of the world through the eyes of a child. All of a sudden, the things we walk past every day without noticing…like two squirrels chasing each other up a tree or a brightly colored sign in a store window…become fresh, new and exciting.
Traveling with kids has a fantastic way of reminding you of the little joys in life.
6. It Makes Your Kids Adaptable
I've talked to people who had a terrible experience (usually once) traveling with kids and vowed not to do it again. Then I've talked to other people who decided to travel with their kids, whether it was inconvenient or not, and their kids are great travelers! Why is this the case? Expectation.
When you expect things to go wrong and your kids to respond terribly and everything to be difficult, they probably will be. But when you expect that things will go wrong and you focus on helping your kids (and yourself) to respond by adapting to the situation, learning new things, creatively solving problems and going with the flow, your whole family will grow more adaptable through the process.
The truth is, no matter how well you plan or prepare for trips, something will go wrong or mess up your plans…whether you have kids or not. But what our family has found is that when those things happen, they actually make for wonderful opportunities to solve problems together, express appreciation for what's truly important, and bond as a family as we all adjust together.
The first few times we have traveled with each of our kids were definitely not smooth or convenient. But we expected this and learned from it. I learned to pack extra EXTRA outfits for a plane ride and to have plenty of snacks on hand and not to leave for a car trip during my baby's fussy hour. And as I have learned a lot of travel hacks to help create smoother experiences, my kids have learned how to travel well in the process.
They've learned how to entertain themselves on car rides and how to sleep in new places and how to go with the flow when plans change at the last minute. And we are all better for it.
7. It Sparks a Love for Learning and a Broader Worldview for the Whole Family
Traveling is a MARVELOUS opportunity for learning. Everywhere you go, there are new things to see and learn. And kids LOVE it! They come alive with curiosity as they discover the world around them, whether in nature or urban areas or anything in between. With a little bit of intentionality, you can fully embrace these learning opportunities by visiting a museum, asking questions, meeting the locals, researching online, and more.
My own world travels have awakened in me a love for all types of cultures, people, foods, and architecture. I love watching this same love awakened in my kids. My kids feel comfortable making friends with people of all different races and cultures. They try new foods they've never seen before. They love to explore new places and find things to entertain themselves with wherever they are.
Traveling with young kids may not always be smooth, but that's part of its beauty. If you're like me and you have a desire to explore the world…however close or far…be encouraged!
Traveling with young kids (or any age) is not only possible, but it has tremendous benefits for your whole family. So don't hesitate to book that trip!
Like this post? You may also enjoy…