Hi! I'm Beth Hoff. I'm an enthusiastic, fun-loving wife, mother, and career woman. Coffee is my constant companion and I may be just a little obsessed with everything s'mores. I have a secret dream of someday hiring a personal chef who cooks delicious, locally-sourced meals that look as good as they taste and then does all the dishes. I adore my husband and my 2 daughters and have a heart to help people thrive in every aspect of marriage & family life.
I have a Masters in Clinical Counseling and spent 13 years in ministry, serving as the Director of Marriage & Family at a church in Cleveland, Ohio. But I'm also a wife & mom who is figuring out how to thrive in the midst of busy schedules, working, homeschooling, and the not-so-predictable nature of kids and family life.
One of my biggest passions has always been building strong marriages & families. I truly believe that everyone, whether you grew up in a "healthy" family or not, can cultivate a family life that you love and that brings joy & peace to everyone involved. Join me on this journey of making your family your favorite place to be!!!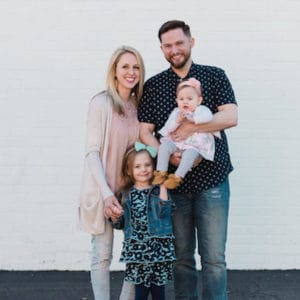 Wanna know more?
I was born in New Jersey, but have lived in the greater Cleveland area for most of my life. Cleveland has gotten a bad rap in the past, but it's actually a place I have grown to love. It has an amazing food & coffee scene, world class orchestra, theater district & museums, and it's right on Lake Erie, which makes for some stellar sunsets. My husband and I met in college in Oklahoma, where he thought it was hilarious when I fell asleep in Greek class almost Every. Single. Day. The class was right after lunch, what do you expect??? 😉
We've been married for 13 years and have been through some really great times and really low times. But the lowest of all was when we miscarried our first baby. (Read my miscarriage story here.) It absolutely broke our hearts and both of us struggled with depression for what felt like forever. Through the grief journey, we have come to understand ourselves and each other in a deeper way and we are knit together for life. We are continuing to learn every day how to intentionally prioritize our marriage & our family. We're also learning how to laugh together in the face of challenges, growing closer & stronger through adversity.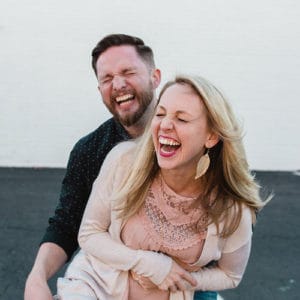 We have two adorable girls, Gwen (6) and Elle (2) that keep our lives interesting & challenging & beautiful. We also have a massive, 125 pound red brindle bull mastiff who is a total teddy bear.
My Favorite Things
Making people laugh – It's seriously my favorite thing ever, besides my family of course. Sometimes I'm great at it and sometimes, my "dad jokes" fall with a pretty big thud. But I keep making them anyway. I also love to laugh…loudly. I used to get in trouble in school for laughing too loudly.
Traveling – I've been to 12 countries so far and I want to see so many more! I studied abroad in Spain in college, went to the Philippines & Mexico on mission trips, and visited Italy, Switzerland, England, Scotland, Wales, South Korea, Canada, and France for fun. I live in the U.S. That's #12 😉 What are your travel goals & experiences? I want to know!!
Coffee – No seriously, coffee is so much more than a hot beverage. It's an experience. It's a trusted friend. I'm totally a coffee nerd. I have a fancy pour-over station my brother built for me and I grind it fresh every morning. But I'm not a coffee snob. I will also drink it any way I can get it, which is usually cold, since I make it and lose it before I can drink it hot. Know what I mean?
God – I gave my heart to him as a little kid and he has walked with me through the brightest and darkest of days in my life. I love him with my whole heart and he is the center of my life and everything I do. He's so much more than a "religion" to me. He's my best friend. I won't push theology on you, but my hope is that you experience God's love & acceptance through this blog in some way. If you want to know more, contact me!
Adoption – I had the amazing privilege of nannying for 3 adopted kids before I had my own and they taught me so much about love and life. My husband and I are planning to adopt within the next few years.
Sweet & Salty – I can pretty much never pass up chocolate. Or chips. Or chocolate chips. I love all things salty (cheese, olives, pickles, chips) and all things chocolate. Did you know studies show that chocolate actually affects your brain and makes you feel happier? (We, women, have known this for years. So glad science finally figured it out.)
Thai Food – Red curry, bubble tea, spring rolls. This is my favorite meal and I will always make the long drive to get it!!
Organization – Walking through IKEA makes my brain ridiculously happy. I LOVE creating strategies, systems and structures to make life easier and more organized. Now keeping things IN that system? That's the hard part. Kids? Anyone?
All. Things. Family. – I LOVE my family. I love family relationships in general. I also love making people FEEL like family through encouragement & generosity & hospitality.
I've had the honor of helping couples and families walk through difficult times and come out on the other side stronger. My hope is that you and your family will grow closer, stronger and healthier as a result of Favorite Families.