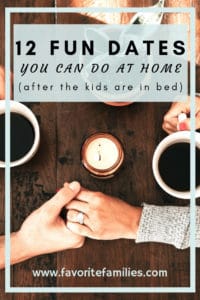 Looking for some great at home date night ideas?
Dating your spouse is actually one of the best things you can do for your marriage. It's so simple that it almost seems ridiculous. And yet, as you may have noticed, after getting married…and ESPECIALLY after having kids, the majority of couples don't intentionally date anymore.
And yet, according to a national survey reviewed by the National Marriage Project (University of Virginia), couples who spend quality time together at least once a week saw relational benefits in 5 key areas:
Communication (deeper understanding and appreciation of each other)
Novelty (enhanced connection and increased fun)
Eros (re-igniting passion & sexual intimacy)
Commitment (sense of togetherness and longevity of relationship)
De-stress (lowered stress and increased emotional support of each other)
If you're in a season of life in which it's hard to get the time, money, childcare (or all of the above) to make a weekly date-night possible, there's good news! This survey indicates that as long as you're having quality time together on a weekly basis, whether you leave the house for a date or not doesn't matter! What DOES matter is that you are being intentional to connect. Be sure to check out our FREE 5-Day Marriage Challenge and boost your marriage in just 20 minutes a day!
So whatever your schedule or budget, check out these fun ideas for dates you can do at home on any budget, after the kids are in bed. (Here's hoping the kids STAY in bed.)
This post contains affiliate links. That means I may earn a small commission on qualifying sales at no additional cost to you. I never recommend anything unless I love it and would actually use it. Read my full disclosure here.
1. Romantic Dinner
Feed the kids an early dinner and put them to bed. Then, cook dinner together as a couple. Turn on some quiet, romantic music, pour yourselves a drink, and work together to create a culinary masterpiece! Or if you're like my husband and me, just get takeout and spend your time talking instead. 😉 Bonus: Give a toast to your spouse and highlight some of the things you love and appreciate most about them.
2. Act It Out
Re-enact a scene from a favorite movie (or two). Be silly and ridiculous. Surprise each other by coming up with your own "costume" and dive deeply into playing your role. Feel free to re-watch the scene online to remind yourselves of all it entails. If you're super brave, set up a camera or phone and record yourselves doing the scene and then watch it back together and laugh hysterically.
Examples: When Princess Leia rescues a frozen Han Solo in Return of the Jedi; When Elizabeth and Mr. Darcy finally come together; When Buttercup realizes that Westley is the Dread Pirate Roberts as he rolls down the hill saying "As You Wish" in Princess Bride. Pick something romantic, hilarious, or both and let yourselves enjoy the passion and humor of the moment.

3. Quiz Time
Take an online relationship or personality quiz and compare results. Talk about whether you think the results are accurate or not and how the concept impacts your life & marriage. (If you're brave, take the quiz once for yourself and once for your partner and see how close you get to your partner's actual results). Here are 3 Free Assessments to Boost Your Marriage.
Ideas: The 5 Love Languages, the Enneagram, Myers-Briggs, etc.
4. Book Club
Read the same book separately in the days or weeks leading up to your date, then brew some coffee and discuss the book "book club style." Talk about what stood out to you, what you agreed or disagreed with, what influenced you most, etc.
Ideas:  Mindset by Carol Dweck, Atomic Habits by James Clear, Keep Your Love On by Danny Silk, Raising Giant Killers by Bill Johnson, Grit by Angela Duckworth, Essentialism by Greg McKeown, Drive by Daniel Pink.
5. Take a Class
Find a free class on youtube and "take a class" together in your living room! It could be anything from stretching to dancing to cooking to art or language or how to shape balloon animals. Just be sure to talk, connect, touch and laugh during the class and don't get stuck in just watching or doing.
6. Game Night
Pick your favorite board game, grab a deck of cards, or download a free or cheap app like "Heads Up" or "Catch Phrase" and have fun together playing games! We just discovered CodeNames and it's soooo fun!
Ideas: Taboo, Scrabble, Dutch Blitz, Sequence, Clue, Ticket to Ride, Charades, Guess Who, Connect Four, Oregon Trail Card Game
7. Classic Movie Night
Pop some popcorn and watch an old movie together….not old like black and white, but something funny you loved as teenagers. I love that Disney Plus has so many that I loved as a kid and teenager. If you have Disney, check it out! Or watch an hour-long comedy special! Laughing together is an added bonus that will serve to further deepen your emotional connection and relieve stress.
8. Build Your Dream House
Talk about what your dream house would be like. One of you can even sketch it out on paper if you want, or find a free app or program online where you can arrange rooms. Peruse Pinterest or websites like Home Depot, Pottery Barn or IKEA and put together an idea of what house you would build together if money were no object.
9. Paint Night
Pick up some cheap, basic supplies at a local craft store, Walmart or Target the week of your date. Find a free art or painting class online and follow the teacher's instructions. Encourage each other and laugh together along the way. Don't have supplies? Find a sketching class instead and use pencils!
10. Puzzled
Do a puzzle together and talk about life, love and your dreams for the future as you work together to put every piece in its place.
11. Conversation Starters
One of the best ways to connect with your spouse is to refresh your knowledge of each other! You'll not only gain some fresh perspective on your spouse, but deepen your friendship and have fun in the process. I created a fun list of conversation starters you can use! Grab your copy below!
12. Photo Reel
Make homemade ice cream sundaes or another special snack, snuggle up on the couch together, and look back at photos and videos from throughout your relationship. Take time to pause and share favorite memories and funny stories along the way.
Whatever your schedule or budget is like, being intentional to spend quality time with your spouse at least once a week is one of the best investments you can make in your relationship. I encourage you to make it a priority with these at home date night ideas or be creative to come up with your own and see what happens!
If you enjoyed this post, you may also enjoy…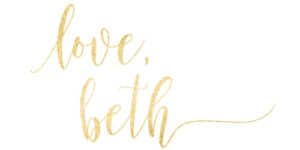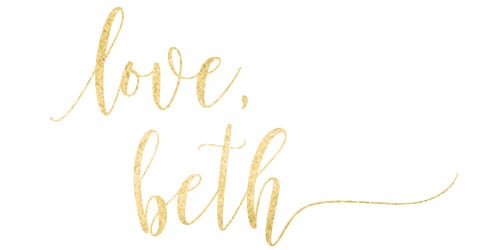 P.S. Like this post? Share it on Facebook, Pinterest or by email and help spread the love!
P.P.S. Want more tips, strategies & encouragement for a great marriage & family life? Be sure to subscribe to our newsletter using the form below so you won't miss a thing!