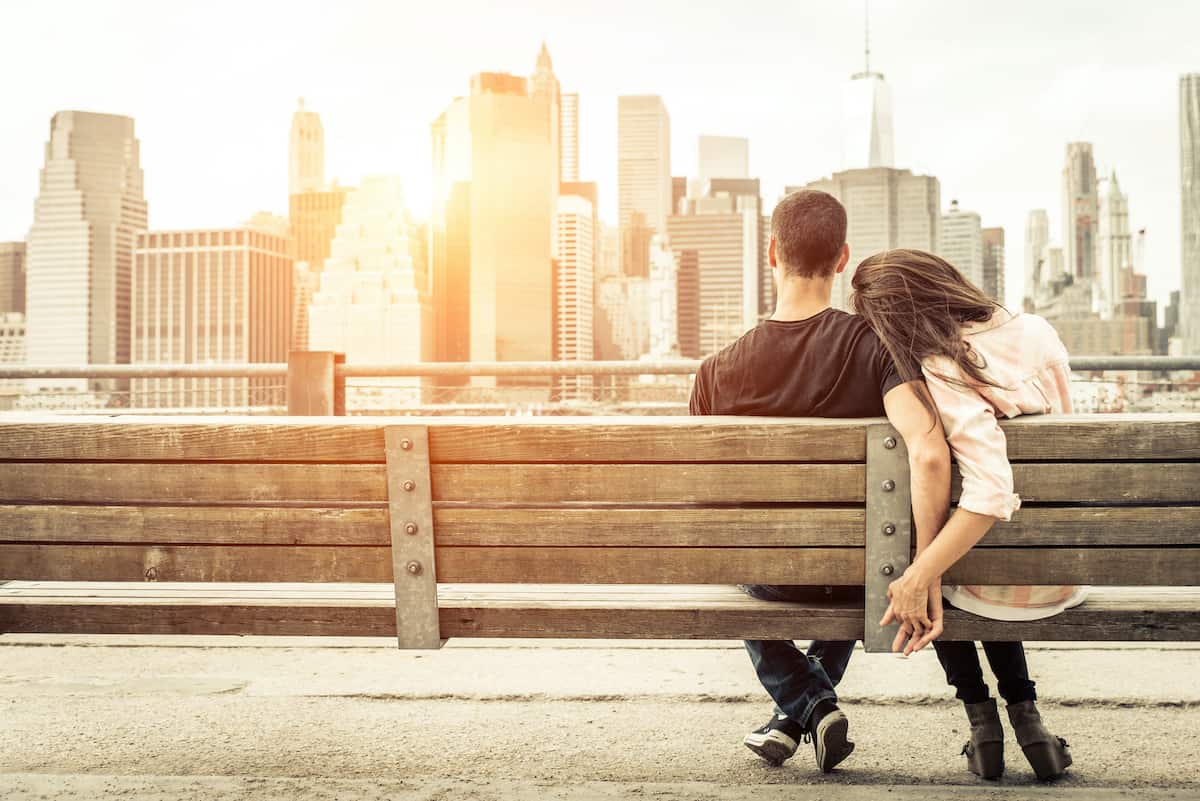 Who doesn't love a great date with the one you love? But as busy people on a tight budget, sometimes it feels impossible to make that happen. Good news! You don't have to drop a lot of cash to enjoy a fabulous date. There are lots of great, romantic dates on a budget.
Why Date Your Spouse?
Dating is one of the best things you can do for your marriage! A national survey reviewed by the National Marriage Project found that couples who spent quality time together at least ONCE A WEEK saw significant relational benefits across these areas: communication, fun, passion/intimacy, commitment and lowering stress.
Who doesn't want those benefits in their life?? What's even better is that it didn't matter whether they went out on a fancy date, a cheap date, or had a date at home. The quality time together is what mattered. So get together with your spouse and schedule a date!
Common Barriers to Date Night (and how to overcome them)
The truth is, most of us would LIKE to date our spouse, but we find ourselves bumping up against barriers that make it harder to do. Here are some of the most common barriers and some ideas for getting past them.
Time
In a society with ever-increasing demands on our time and attention, this is one of our biggest reasons we don't date our spouse. But, when it comes down to it, we MAKE time for what matters to us. So instead of using busy schedules as an excuse, what if we made dating a priority? Look at your calendar and schedule a date with your spouse. Then treat it like any other important meeting. Say no to other commitments. Make room to connect with your spouse and you will see the benefits.
Childcare
Okay, now this one might possibly be the toughest barrier to overcome, depending on your situation. If you don't have family close by who will babysit for free (which many people don't), finding a babysitter you love and trust can be tricky and expensive. BUT, there are creative ways to get around this one too! Here are a few:
Find another family with kids and swap babysitting for each other for regular date nights. Even if you do a once-a-month date night, it will still have a great effect on your marriage.
Make use of cheap or free childcare at places like the YMCA or IKEA or a nice grocery store. You can drop your kids off and go work out together or grab a coffee and leisurely stroll around a store while using some conversation starter questions and make a great hour of it!
Get creative! Try a lunch date while your kids are in school.
Be intentional to have a date at home, after the kids are in bed. Check out these 12 Fun Dates You Can Do At Home for ideas!
Prioritize it in your budget. Yes, childcare can be expensive, but ultimately, for the sake of your marriage, it's worth it. Make some budget changes, earn some extra cash, or find a way to pay for 2-3 hours of childcare at least once a month. When you really value something, you can always find a way to make it happen.
Money
"But, dating is so expensive! We just can't afford it right now." This is another common reason not to date. And yet, it's really just another excuse. When my husband and I were first dating, we certainly weren't dropping a couple of Benjamins on a fancy dinner and a show. No, instead we were going to Sheetz and spending $1.98 on two drinks. Then we'd sit in the car and talk for hours while we drank them. We connected on a deep level, laughed together, and had a great time.
The more you strengthen your friendship with your spouse, the less you'll need expensive entertainment to enjoy a date with them. Still to this day, one of our favorite "dates" is going to a coffee shop or out for ice cream and talking. Each of these options is under $10.
Instead of letting money stop you from experiencing the benefits of dating your spouse, check out these:
14 Romantic Dates on a Tiny Budget:
1. Make Fondue at Home
Nothing says romance quite like chocolate. You don't need a fancy fondue pot or anything, just a few basic ingredients and the kitchen tools you have at home. Check out this Quick & Easy Fondue Recipe! Strawberries, bananas, apple slices, pretzels, marshmallows, vanilla wafers, and pound cake all make great items for dipping.
2. Take in a Show (Community Theater or Local High School)
The level of excellence in theater productions at the highschool and college level as well as community theater can be amazing! Instead of dropping big bucks on Broadway, check ticket prices for a matinee production locally.
3. Try a Local Coffee Tasting
Check your local coffee shops to see if they offer coffee tastings. It's a fun way to connect with your spouse as you explore a variety of different roasts and flavor hints of coffee. If there aren't any available, do your own!
4. Share a Decadent Dessert at a Fancy Restaurant
Instead of paying for all 3 courses at a nice restaurant, eat dinner at home and head there just for dessert. You can even split something and each order a drink to keep costs low, but still enjoy the romantic feel of fine dining.
5. Stroll through a Museum on a Free Day
Lots of museums offer free or discounted entrance one day a month or during certain hours of the week. Find out when these days are and schedule your date then!
6. Cook Dinner Together & Dine by Candlelight
Get a babysitter or wait until the kids are in bed for this one. Then, play some soft music, pour yourselves a drink, and work together to create a culinary masterpiece while you talk and laugh the night away. Then dine by candlelight for extra romance.
7. Recreate Your First Date
Think back to when you first got together and put together a flashback date. Recreate as many of the elements as you can and don't forget to snuggle and look back at pictures from your early days together.
8. Go Out for Breakfast Instead of Dinner
Breakfast has always been my favorite meal of the day. There's no rule that says only DINNER dates can be romantic. So buck the trend, find a great local breakfast place and head out for a much cheaper meal!
9. Take a Ballroom Dancing Lesson Together
One of my all-time favorite dates with my husband was when he surprised me with a ballroom dancing lesson. We were both terrible, but it was so out-of-the-box for what we normally did that it became one of our most memorable dates. Check local dance places for when they do group ballroom dancing lessons. By doing a one-time lesson as part of a group, you'll cut the cost significantly. Embarrassed to dance in front of others? Find a free lesson online and learn a ballroom dance at home in your own living room.
10. Pretend You're a Tourist in Your Hometown
Take the bus or train (or drive if you must) and explore the sites in your city with fresh eyes. Soak it in together and notice the beauty your city has to offer. Stop and snap some photos in front of landmarks and make a day of it! Feel free to pack your own lunch or snacks and save your money for coffee or dessert out if you want.
11. Try a Vintage Date
Remember roller-skating? How about ice-skating? Bowling? Going to a candy shop? Splitting a milkshake? These "date" activities have been around for years, but they're still just as fun as they've always been. Many of these activities offer discounts on certain days or at certain timeframes. Find out when and schedule a date your highschool self would have loved (and still will)!
12. Go for Happy Hour or Half-Price Sushi
One of the most beautiful, delicious restaurants in our city offers an amazing happy hour from 4pm-6pm on weekdays. The view is stunning (on the water) and the crowd is small. Food and drinks are half-price and we can get out of there for under $20. Lots of great restaurants offer incentives to come during slower business times. From half-price sushi to Taco Tuesday to $5 Burgers or Happy Hour, your favorite spot to eat may actually be in budget if you go at the right time!
13. Enjoy a Picnic in the Great Outdoors
Pack some of your favorite snacks or simple sandwiches and head to your favorite spot in nature. A local park, the lake, woods, or any place that will capture your attention with its natural beauty is a great choice. Don't forget to wear your walking shoes for a quick hike or a romantic stroll around the lake! If the weather isn't great, head to a free nature center instead!
14. Dream About Your Future
When my husband and I were newly-in-love, poor college students, one of our favorite things to do was drive around and look at houses. We would talk about our dreams for the future and our plans to get there and it always sparked connection and fresh hope for both of us. So whether you grab coffee somewhere and drive around looking at houses like we did or wander through a furniture store or garden center and pick out your favorite things, this is a great FREE option for connecting.
The Most Important Thing
Whatever date you choose, the most important thing is that you are intentionally setting aside quality time to connect with your spouse. Not only will it strengthen your relationship, but it's also a great example for your kids. If you want to re-connect with your spouse on a deeper level and breathe fresh life into your relationship, be sure to join the FREE 5-Day Marriage Challenge here!
Happy Dating!
Like this post? You may also enjoy…