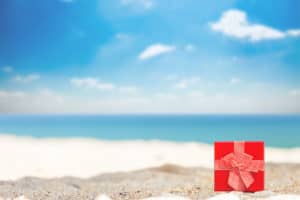 What do you get for the mom who pours out her time, energy and love on a daily basis? Another candle? Maybe a bathrobe? Definitely another mug that says "MOM" on it in floral lettering, right?
I was putting together a gift guide for moms and wanted to get some input from various moms to make sure I was on the right track. But when I polled a group of some of the most amazing moms I know, I noticed an interesting trend….most of them didn't really want "stuff" (with the exception of cozy socks that is. Why do we love cozy socks so much??)
They wanted experiences instead.
So much of a mom's life is about pouring out to meet the needs of others. We love it and are happy to do it (most of the time). But because we are constantly pouring out, we secretly crave having someone else pour into us sometimes. Experience gifts are a fantastic way to pour back into mom in a way that refreshes her, pampers her, and awakens her sense of adventure, creativity and fun in a fresh way.
So no matter what type of Mom you're shopping for, check out these great experience gift ideas!
Keep in mind that each of these gifts can really be given in several different forms:
A gift card or certificate for her to do the experience by herself
A "date" with you to do the experience together
The chance to do the experience with another person (or several) of her choosing
Whichever way you choose to give your experience gift, be sure to download your free copy of the 20+ Printable Gift Certificates below so you can gift it in style!
This page contains affiliate links, which means I receive a commission from qualifying purchases. I only recommend products I LOVE or would use myself. 
For the Mom Who Likes to Relax (or Needs to):
1. Mani-Pedi
This is a great one for the mom who never gets a chance to do something nice for herself. Be sure to find out if she has a preferred location for getting her nails done. If not, then get some recommendations for a good, clean one. This is a great one to do as a mother-daughter date!
2. Massage
If physical touch is her top love language, this gift is stellar!! Once again, find out if she has a preferred place for getting a massage, or else get recommendations for one that is trusted and professional. You can even upgrade to a couples massage if mom likes that kind of thing. She may prefer to be alone 😉
3. Spa Day (Facial, manicure, pedicure, massage or any combination!)
This is a fun one to do as a mother-daughter date! As always, find out if she has a preferred spa or get recommendations on a good one. Once you find the one you want, find out if they have any package deals for multiple services or for two people. Most spas offer a discount for combinations!
4. Spa Basket for Home
If pampering at home is more her thing or you're not sure which spa to choose, this is a great option! Fill a basket with cozy items like a face mask, plush bathrobe, bath bombs, nice lotions, foot scrub & accessories, and of course, chocolate.
5. Cruise
I mean, right?? Just make sure you only give this gift if you know they would actually use and enjoy it. I would LOVE a cruise, but it wouldn't be realistic for me until I'm done breastfeeding. [PLEASE ask me again soon….]
For the Creative Mom:
6. Paint Night
Search online for local paint nights, sometimes referred to "wine and canvas" nights. Or, find a local artist and ask them to do a private lesson for you, your mom, and a few of her friends in your own home! It's a fun way to relax, connect, and get in touch with your artistic side.
7. Hobby Lobby Giftcard
Are you really even a mom if you don't like Hobby Lobby? This gift card is self-explanatory.
8. Music Lessons (online or in person)
When I was a teenager, I started taking violin lessons. I knew that my mom had always daydreamed about learning to play the violin herself. So one year for her birthday, my Dad and I surprised her by paying for 8 violin lessons and renting a violin for her to use. It's the first time I've ever seen her cry when opening a present. Now, there are also great options for online music lessons! Find a course or private online lessons and surprise mom with the gift of music!
9. Ballroom Dancing Lesson
On our first anniversary of dating, my husband surprised me with a ballroom dancing lesson. It was so out-of-the-box for my normal life that it was fantastic. We laughed together and bonded over this fun experience. And the price was totally reasonable, especially if you do it as part of a group.
10. Hand Lettering Class
If Mom has an artistic flair, consider calligraphy! She can try her hand at some fancy lettering and might just find a new favorite hobby in the process.
11. Flower Arranging Class or Workshop
Search online or call your local florist and ask for a recommendation. Lots of craft stores offer silk flower arranging workshops too!
12. Photography Lesson
Whether your Mom is a novice or a budding photographer, this is the gift that will take her to the next level. You can find tons of online options or find a local photographer and pay for a one-time private lesson to get her started or show her some tricks of the trade.
For the Cultured Mom:
13. Theater Tickets (local or out of town)
If Mom is near a large enough city, explore the theater options available. If not, consider local high schools, colleges and art centers! They have some great performances at very reasonable prices. This is a great one for a date with mom, or to give her 2 tickets to bring a friend.
14. Concert Tickets
Whether Country Music is your Mom's jam or her favorite boy band is doing a reunion tour, this is the kind of gift she will always remember.
15. Botanical Gardens Tickets or Membership
For the green-thumbed Mom, this is a fun choice! She can enjoy the beauty of nature in any kind of weather.
16. Museum Passes
Art museum, history museum, or whatever floats her boat, this is a fun one to give a ticket for Mom and a friend, or an annual membership!
For the Adventurous Mom:
17. Vacation or Weekend Getaway
Yes. So much yes. One of the best gifts we ever gave my husbands' parents was plane tickets to go on a trip to England with us. It was a big expense, don't get me wrong, but now that his parents are both gone, I am SO grateful that we took the leap and made this special memory that we will always cherish. There are also lots of great ways to give a "trip" for cheaper. You can give an AirBnB.com gift certificate or an overnight at a hotel or Bed & Breakfast you know she would like. So many options!
18. Zip Lining Experience
Okay, so not all moms would be down for this, but I totally would! It's a decent price for a life-long memory!
19. Kayaking or White Water Rafting
Whether a calm, kayak ride on a gorgeous lake or a rip-roaring rafting experience with a hippie guide, this is definitely one for the books.
20. Indoor Sky-diving
This is totally on my must-do list! I've always wanted to go sky-diving, but now that I have young kids, I'm more hesitant to do something this risky. This is the perfect alternative!
21. Helicopter Ride
One of the coolest things I've ever done was take a helicopter tour of Kaui (Hawaii). As we floated along in our air taxi, the stunning birds-eye view of the island took my breath away. The wind from the copter was so strong that a little mountain goat lost his footing as we flew overhead and I almost had a heart attack watching him struggle to regain his balance and avoid tumbling to his death. Thankfully, he pulled through like a champ. Many major cities offer a helicopter tour and there are always deals available if you search.
22. Escape Room
For the Mom who loves mind games (you know who you are), this one is a BLAST! Give her the gift of an adrenaline rush as she pulls out her detective skills she's gained from years of figuring out which kid did what behind her back and puts them to good use.
23. Theme Park Tickets
Is she a roller-coaster junkie? Give the gift of fun! Lots of amusement parks even offer season passes at a discount at various points during the year. Snag a great deal and surprise her!
For the Busy Mom:
24. House Cleaning Service (1x or monthly for a year)
One year, I opened a gift box from my mother-in-law with a piece of paper inside it. On the paper was a handwritten note, promising a year of monthly house cleaning by a professional cleaning service of my choosing. So, at first, I had to choose not to be offended. [Check out these 7 Tips for Getting Your Mother-in-Law to Love You if you also struggle.] But when I actually got past my insecurity and made the call to a local cleaning place, this soon became one of my FAVORITE gifts of all time! What I came to realize was that my mother-in-law, who was also a working mom like me, knew what it was like to split your time between your family and all the stuff that needed to be done. She was right on.
If a whole year is too much for your budget, consider a special one-time cleaning that can be redeemed for spring cleaning or prior to a party she's hosting.
25. InstaCart Subscription
If InstaCart is available in your area and you haven't tried it yet, now is the time!! I was super hesitant at first, because I'm pretty particular about choosing groceries. But the demands for my time finally pushed me to give it a try and I haven't looked back. For a totally reasonable annual fee, you get unlimited grocery deliveries from a variety of local places! So far, this has saved me at least 1 hour every week and it's the gift that keeps on giving.
26. Babysitting Coupon
If you're looking for a cheap option, this "free" gift is worth its weight in gold to a busy mom. One of the best gifts we can receive is the freedom to do something on our own…even if it's getting a latte through the Starbucks drive-thru and sitting in our car watching Netflix with nobody asking for a snack. Even one hour is a gift worth giving.
27. Hello Fresh Subscription
If you still like to cook but want to streamline the details, Hello Fresh is a fun way to go!
28. Help with Tasks or Projects
Busy moms always love help. A coupon to do the dishes or the laundry or make dinner or a deep clean of something that needs it is a great option. Just make sure you're ready to do a "mom-worthy" job. Another STELLAR option is a project around the house that needs to be done. One year, my brother gave me the amazing gift of building a coffee bar. Best gift ever!
For the Mom Who Loves to Learn:
29. Class at a Local Community College
Local community colleges and adult education centers offer all kinds of classes that are open to the community! From sign language to real estate and everything in between, give the gift of learning!
For the Mom who has repeatedly mentioned wanting to learn a foreign language, this gives her the option of learning on the go and at her own pace. Rosetta Stone (and other language programs) is available for TONS of languages and at various price points. Plus, if you get on their email list, they are constantly running deals.
31. Workshop on a Fun Topic
If your Mom loves random knowledge, giving her a one-time workshop on a new topic is perfect! If underwater basket weaving floats her boat, go for it. Or maybe something a little more practical, like retirement planning.
Audio books are amazing!! I love a good book, but as a busy mom with kids who are constantly talking, I've found that sitting down in peace to read a hard copy book is pretty much impossible. Audio books provide a wonderful alternative that work for car rides, while doing the dishes or even while she's getting ready in the morning. You can gift a subscription to Audible here.
33. Online Course Gift Certificate Like Udemy
There are SO many online courses available now! Check out Udemy.com for every class you could possibly imagine.
34. Magazine Subscription
Consider a fun hobby-themed magazine based on her interests or something like the Magnolia Journal!
For the Active Mom:
35. Gym Membership
Some moms would be insulted by this one, but other moms would thank you profusely! Just make sure you find out which gym she's had her eye on.
36. A Session with a Personal Trainer
For the mom who has been wanting to start working out but doesn't know where to start, a personal trainer will help get her on the right track and get a plan in place.
37. Cycling or Other Live Exercise Class
You can even do this one as a team! One of the most effective ways to motivate someone to work out is the accountability of having a friend to do it with you. A 6 or 8 week class is a great way to do this. From Barre to Cycling to Yoga, there are tons of great and affordable options.
If working out in front of other people makes her skin crawl, an online program is the way to go. There are tons of options like Beach Body or Class Pass, to name a few.
39. Coupon for Weekly 1 Hour of Babysitting While She Works Out
Um, can I get this one please?
For the Foodie Mom:
40. A Date with You to a New or Fancy Restaurant (or Cook for Her at Home!)
As much as she loves to eat, being with you AND eating is even better! So grab a gift card OR write your own certificate redeemable for a lunch or dinner out with you to the location of her choice!
41. Coffee Subscription (Mistobox)
If she's a coffee snob, this gift will have her thanking you over and over again. I started using Mistobox 2 years ago and I seriously look forward to it every. single. time.  It's a coffee subscription that delivers small-batch roasted, good quality bean coffee from a variety of roasters across the country. You can adjust the frequency to however often you want! We do one bag a week, but you could do one a month just as something new to try! She can even log into her account and update her preferences…light vs. dark roast, African vs. South American, chocolate notes vs. citrus. This is next level coffee nerd business. And it's ridiculously delicious. I even drink my coffee black now, because it's that good.
42. Baking or Cooking class
Does she enjoy cooking? Sign her up for a one-time class focused on a single item, like macarons or bone broth or whatever she would like. This one makes a great date gift for her and a friend or spouse!
43. Wine Tasting or Tour at a Vineyard
If mom enjoys the finer things in life, you can't go wrong with this one!
44. Sushi-Making Class
For the hands-on foodie, this is a ton of fun!
45. 5-Course Meal with a Local Chef
Some cities do "restaurant week" where they run a deal on a 3-course meal. Groupon also has options for a multi-course meal at local restaurants. Or, call a few of your favorites and see if they have an option like this.
46. Wine Club or Fruit & Cheese Club
This gift keeps on giving all year round! If mom likes surprises, this is a fun one! Harry & David is a great one!
47. Ice Cream Subscription
I JUST found out that this is a THING!! Here are 5 Ice Cream Subscriptions worth their weight in gold. I can personally vouch for the deliciousness of Jeni's!
48. Box of High-Quality Chocolates
Chocolate is an experience. Let's be honest. If you simply cannot make a decision, chocolate is always a good choice. If mom doesn't like it, please forward it to my address immediately. Search for a local chocolate shop and get an assorted box. You can also order online from places like Godiva or, my personal favorite, Malley's (their chocolate pretzel bars are to DIE for and their jars of hot fudge are like liquid gold).
49. Restaurant Gift Card
When in doubt, choose one of her established favorites or, if she's up for an adventure, something new! Not having to cook or clean up is a gift every mom can cherish. Did you know you can order many online? Amazon sells giftcards for major restaurant chains, while many local restaurants have options on their website to order one!
For ANY Mom:
50. Photo Shoot of Her Kids and/or Family
Find a local photographer or a friend who is working on their skills and looking for experience and book a shoot! Your mom will be thrilled with the lasting gift of a family photo.
51. Date With You (Coffee, Lunch, Event, Shopping)
It really doesn't have to be complicated. For most moms, some special time with you where she doesn't have to do chores is a treasure. Print a gift certificate and fill it in with whatever creative idea you come up with like…. "Lunch with Me."
52. Giftcard for Her to Shop By Herself (Target, TJMaxx, Hobby Lobby, Amazon)
Okay, so I know this is at the end of this list, but that in NO ways reflects its value. EVERY mom I talked to actually enjoys getting gift cards to her favorite stores. It's giving the gift of guilt-free shopping! When in doubt, this is a solid choice. If you want to make it more personal, include the option of shopping TOGETHER and doing lunch or dinner with it.
BONUS GIFTS:
If you love the IDEA of giving an experience gift, but really want to give a physical gift, here are a few physical items that give an ongoing "experience" that will improve mom's life in some way:
Every mom needs a good planner. This is my FAVORITE way to shape my priorities and spend more time doing what's most important to me in an intentional way. Plus, the "Daily Do It" and "Weekly Wizard" post-it notes you can get with it are super helpful and fun to use!
54. Berkey Water Filter
I finally got up the courage to invest in a Berkey this year and I can't believe I waited so long! Not only do I feel great about the quality of water my family is drinking (it filters out 99.99% of harmful chemicals, contaminants, and pharmaceuticals while keeping the good minerals your body needs), but it tastes delicious and makes my coffee even more glorious.
This one was given to me as a birthday present this year and I lovingly nicknamed it "sucky." Not because it's bad at its job, but because it's just that good. It saves me from having to do one of my least favorite jobs and THAT is an experience worth giving.
If nothing on this list suits your fancy, there's always cozy socks. But for real. Moms love cozy socks.
Like this post? You may also like…