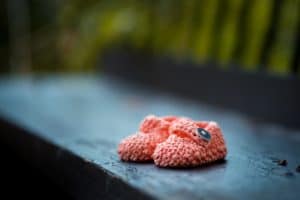 On Monday, March 5, 2012, my life was turned upside down. 
I was newly pregnant…feeling the constant twinge of nausea. Smells that used to be normal and welcome now practically knocked me over with their stench. I had already been perusing the baby clothes section of Target online and daydreaming about how to decorate the nursery. My heart was as fully wrapped around the idea of welcoming this tiny little person into our family as my mind could imagine. 
Just a few weeks prior, I had purchased a flowery mug with fancy gold lettering that said "Grandma" on the front. I carefully wrapped it up in a box and proudly presented it to my mom on her birthday. I'll never forget the moment her eyes lit up when she opened her special gift and realized the meaning behind it. The rest of my family members erupted with cheers that nearly startled to death the 8 other customers quietly sipping their coffee in Starbucks on that Saturday afternoon. 
I felt so much joy…so much fulfillment…so much anticipation of the beginning of this new season of my life. Since I was a little girl, I had dreamed of becoming a mom and holding my sweet baby in my arms…breathing deeply of his or her little head and knowing that I had finally stepped into an important part of who I was always meant to be.
I was in a hurry that Monday evening, getting ready to go to a night class and running late, as I often did. All of a sudden, I felt a small gush of fluid. I froze. In a moment, the worst case scenario, in all its fearful horror, flashed through my mind. I knew exactly what was happening. And there was nothing I could do to stop it.
Facing the Reality of Miscarriage
I held back tears as I changed clothes, finished packing up my bag, and headed to the car. As I drove, I called my ObGyn's office and asked them what to do. They told me to come in the next day to see what was going on. That there was nothing I could do in the mean time, just take it easy.
My mind went numb as I tapped the little red button to end the call. I stared forward out the windshield and focused my eyes on the horizon ahead. I didn't know what to think or feel or do, so I did nothing.
The next morning, I sat stoically in the doctor's office, trying desperately to hold back the onslaught of overwhelming thoughts, fears & emotions threatening to break loose all over the white-jacketed man in front of me. I waited. 
They poked me with needles and collected samples and then brought me to the ultrasound room to "have a look." Apparently, nobody thought to tell the ultrasound tech what was going on, because she burst happily into the room and practically shouted, "Congratulations! When are you due?" I choked back tears as I tried to formulate words to respond, to no avail. Her smile quickly faded as she recognized the look on my face and apologetically got right to the ultrasound. 
I felt so cheated. Here my husband and I were in the ultrasound room for the first time ever. But everything was all wrong. He was supposed to be standing next to me with a proud, expectant beam on his face as we exchanged a loving glance, the tech smiling at the screen as she declared something marvelous like, "Do you hear that? It's your baby's heartbeat!" My husband would gently touch my growing belly and we would dream together of the bright future of our new little family.
Instead, the room felt cold and sterile. The lights were dim, exactly how I felt. My husband held my hand and neither of us looked at each other. We just stared blankly at the screen in front of us…waiting in quiet urgency for the news, any news.
The ultrasound tech worked in silence. She quickly moved the wand around, up, down, this way, that way. After several minutes, the doctor came in and watched her do the same again. He looked at us and opened his mouth to say what we already knew…there was no heartbeat.
Finding Hope
We were ushered to a plain, wooden bench, positioned in the central hallway of the doctor's office, with a steady flow of medical staff and patients walking past us. We were instructed to wait there while they checked on blood test results.
So there we sat, in stunned silence. I watched a young woman with a beautifully rounded belly exit a nearby room with a peaceful smile gracing her glowing face.
She was living my dream.
A mother-to-be, carrying the precious cargo of vibrant new life inside her. And here I sat, about to say goodbye to the tiniest person I had ever loved. I felt so empty. So confused. So betrayed by my own body.
How could this happen? What did I do…or not do…to cause this? How do I face the people who celebrated with me only days ago, conveying the news that it was a false alarm. You're not going to be a Grandma, a Grandpa, or an Uncle after all. And I'm not going to be a mother. Not today, maybe not ever.
The stream of busy doctors and nurses and happy patients and their families continued as we sat on that lonely bench. There we sat, invisible to the world, our hearts broken and our thoughts running wild. 
Then one nurse stopped. She leaned down, gently took my hand and stared deep into my soul. With every ounce of honest truth, she said, "Honey, your baby matters. Don't let anybody tell you otherwise. You give yourself time to grieve the loss of your precious little one, because your baby is important too."
The pain in my heart finally overflowed and the tears that were just below the surface bubbled up and began to roll steadily down my cheeks. My tears quickly gave way to sobs as I turned my head into my husband's chest and we cried together for the baby we would never have.
Your baby matters.
A Way Forward
I never imagined the heartbreak that was losing our sweet baby. I guess nobody really does, until it happens to them. I didn't have words to describe the devastation I was experiencing and I didn't really know who to talk to about it either. I had heard about miscarriage, but nobody close to me had experienced it, which made my grieving process all the harder. 
We hadn't yet announced it to the world, just our close friends and family. So I carried my pain privately for a very long time. The people who did know tried to be helpful, and some of them were. But some of them just couldn't understand why this was so hard for me. A few even made attempts to make meaning of my loss, saying not-so-helpful things like "Don't worry, you'll have another one." or "Well, there was probably something wrong with it."
I suffered in silence for what felt like forever, afraid to bear my heart to a world that didn't understand and might just tell me to "get over it."
But here's what I learned through this grief journey, and here is what I would say to you, or any Mama who has walked through this journey of miscarriage: Your baby matters. 
Even though you didn't get to hold him or her in your arms, your baby matters. Your little one's life, as short as it may have been, is precious and deserves celebrating. Your baby is worthy of a place in the world and the place she will always hold in your heart. 
Your baby is a gift to be cherished. His life is just as valuable as the babies that are delivered to term and live to be 95. 
The love you have for your little one is just as real and beautiful and strong and powerful as any Mother's love since the beginning of time.
I feel the ache of your heart, the longing in your soul to press your cheek against the sweet chubby cheek of the baby you lost and tell him what he means to you. To share with your tiny one all the dreams and adventures and special moments you imagined together. And to kiss her goodbye one more time, whispering into her ear that you will see her again soon, and that Jesus will take good care of her in heaven until you get there.
And you have every right to feel that way, because your baby matters…and so do you. No matter how many people tell you, "don't worry, you'll have another one." Or how quickly the rest of the world seems to carry on with life around you. 
Let your heart grieve. Know that you are still…and always will be…a mother. Know that the memory of your sweet baby will always be part of you.
Let go of fear, bitterness, false guilt, and anger. Don't allow them to take root. Instead, choose to cherish the days, the weeks, the months, however long it was, that your baby was here on this earth. And know that their little life has forever touched the world and especially, your heart.
Your baby matters.
(Click Here to Read 5 Steps to Emotional Recovery After A Miscarriage)
Want more encouragement and helpful strategies for your marriage & family? Subscribe to our newsletter so you won't miss a thing!