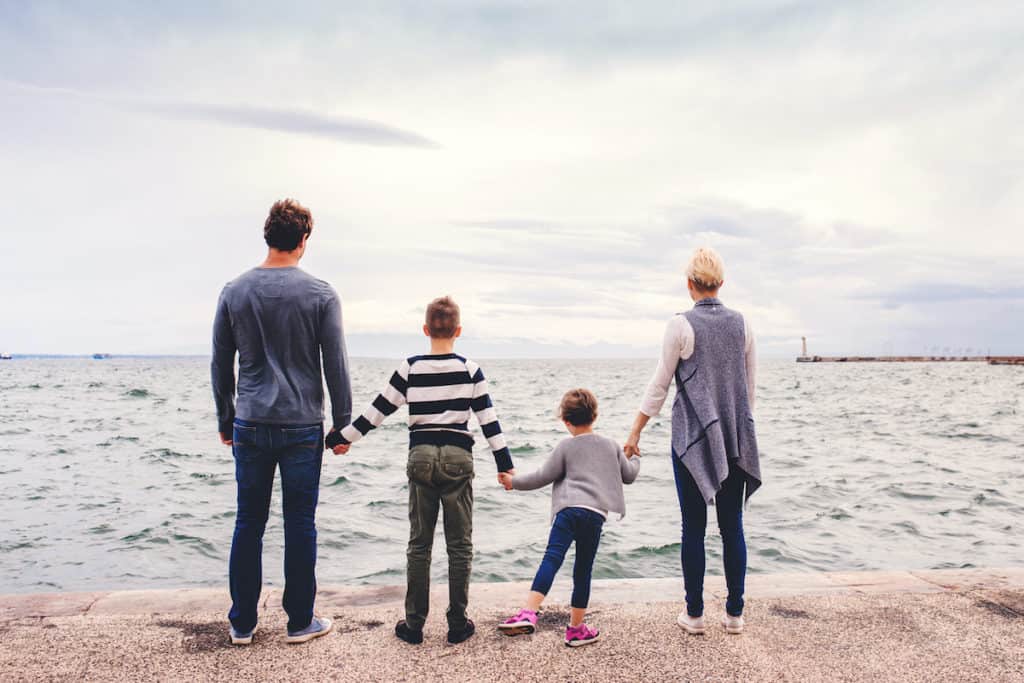 Every crisis is an opportunity. 
No matter what type of difficult situation you're facing…from personal tragedy to global pandemic…you get to choose how you will respond.
And your family is watching.
When the reality of the world shutting down hit me the other day, I lost it. But I didn't break down in tears or hide myself in a corner to ponder the meaning of life. "Losing it" for me meant getting angry at my kids. I thought I was handling things pretty well, considering the magnitude of what's happening. Until I started yelling at my kids for things that didn't matter.
That's when I realized how deeply the chaotic swirl of fear, health scares, and financial uncertainty was actually affecting me. And my family came to my rescue. My husband encouraged me to take some time by myself. My daughter wrapped her little arms around me and told me she loved me. It brought me back to reality.
This is the power of family.
No matter what happens in life, your family should be a place of safety…a respite that provides peace and support when everything feels like it's out of control.
Leading your family through times of crisis may not be easy, but it's so important for everyone involved. 
Check out these 9 Strategies for Leading Your Family Through a Crisis
1. Communicate openly and often.
In times of crisis, we are bombarded by all kinds of fears, insecurities, and questions. The more the swirl of uncertainty goes untamed, the stronger and scarier everything can become. That's why it's so important for families to communicate freely and openly in the midst of difficulty.
Tips for healthy communication with your family surrounding crisis:
Provide helpful information and, as possible, adjust it to the age of the person you're talking to. Just because kids are too young to understand EVERYTHING that's happening in a crisis, doesn't mean they can't understand anything. Giving them truthful information about what is happening and how you are working to get through it helps kids to be able to process what's happening in a healthy way.
Use hopeful language, not fear and panic. You don't have to candy coat everything, but focus on what you and your family can do to get through the crisis and not on the unknowns.
Allow room for questions. Answer them the best you can and be honest. When you don't know the answer, just say, "that's a good question. I don't know the answer to that right now."
Make communication feel "safe." Don't laugh at or mock family members in their fear or questions. Let everyone feel like it's okay to have doubts and ask questions.
2. Allow for different emotional responses.
Each member of your family will process the crisis in a unique way. Where one child may have a hundred questions, another child may want to be alone and think. One family member may feel deeply sad, where another one responds with anger. Some of your family members may struggle with fear, where others may not seem worried at all.
Recognize each person's need to process their thoughts and emotions differently. Give them room and grace to do so, but be available for support. That includes you too! Try to stay in tune with your own emotional needs and give yourself the grace to feel and process what's happening in your own way.
3. Focus on connection as a family unit.
There is power in family. Hardship and crisis can actually bring people together and strengthen bonds. While none of us WANTS to go through a crisis, this is when family is meant to shine. Use family language that encourages a sense of being "in this together" and "on the same team" to help strengthen your connection. Make sure you're making time to intentionally connect as a family, not just to talk about the crisis, but to have fun and laugh together. Laughter is a mighty force for healing and one of the best things you can do together.
4. Shape your environment.
We are constantly being shaped by our environments. As a parent, you have the ability to shape the environment of your home and family. In times of crisis, this is key!
The other day, our family's emotions were running high. We were all feeling the uncertainty of what was happening and everyone was uptight. So, instead of letting things escalate, we turned on some worship music. Almost instantly, we felt a difference in the environment of our home. 
What do you want your home to feel like? Does it feel like a place of peace and safety? When stress is running high, try avoiding the types of movies, music, or video games that could contribute to increased fear or confusion. Instead, think about your environment and things you can do to promote peace. Also, small things that are familiar can be really comforting in times like this. Don't underestimate the power of a gentle hand on the shoulder, a familiar book, or a homemade chocolate chip cookie.
Shaping Your Environment:
Turn on calming music (we like worship music)
Light a candle or diffuse some oils
Open a window for fresh air
Pray together as a family
Have a meal together
Read a favorite story
Make comfort food your family loves
Get outside or get some exercise
5. Recount God's faithfulness in your life & family.
When chaos is swirling, it's easy to get swept up in the extremes and forget any sense of reality. One of the best things you can do for you and your family is to remember God's faithfulness! Take some time to share testimonies of how God has walked with you through difficulty, provided for you, or taken care of you in the past. Look at examples in the Bible too. Share these stories and celebrate together. 
David would call this "strengthening yourself in the Lord." Truly, the most powerful thing you can do to lead your family in times of crisis is to lean on God. Read or memorize Scripture together and let these become daily reminders of God's goodness and presence. Hang them up around your house. Worship together, pray together, and invite God to fill your home with his presence.
6. Share stories of overcoming within your own family history.
In times of difficulty, sometimes we forget who we are and where we've come from. When you really stop to remember all the hardships you've walked through already, it helps put things in perspective.
We are all story-tellers. Adults and children alike understand concepts and relate to them more easily through stories than any other form. Now is the perfect time to break out old family stories of getting through hard times!
What are the stories from your life, your parents' lives, or your grandparents' lives where they made it through difficult times or helped others in extraordinary ways? My grandparents lived through the Great Depression. My great-grandfather was an entrepreneur who figured out how to thrive when jobs and industries were failing. My grandma was an advocate for racial justice in the 1960's. What are the stories in your family of overcoming? Share these! Ask grandparents to share stories over FaceTime or Google Hangouts about what they made it through. This helps stir up hope for your family. It also creates a sense of "we can do this."
Remember that walking through this crisis will someday be a "story" your child tells of a moment in history that he or she overcame. What do you want that story to look like? How they were gripped by fear? Or how their family came together and trusted God more than ever?
7. Manage your own emotions & self-care in a healthy way.
One of the dangers of being a parent is that our own needs are usually the first things we sacrifice. But in order to care for your family, it's vital to take care of yourself and your marriage through the process.
There will always be more dishes and housework. Your dishes aren't the ones who will comfort your scared child or work hard to earn a side income during this time. Create space for self-care and to take care of your marriage. A simple thing you can do is for you and your spouse to take turns giving each other a break. My husband and I intentionally give each other a chance, at least once a week, to be alone and recharge. During a crisis, this becomes even more important. There is no household task that is more important than your mental, emotional & spiritual well-being.
8. Focus on a common purpose.
When we have too much time to think and not enough opportunity for action, that's when fear starts to run wild. One of the best things you can do in leading your family through difficulty is to let them be part of taking action.
Have a family meeting or discussion over dinner and brainstorm ideas for saving money, for staying entertained, for connecting as a family, for keeping the house clean, for helping others, etc. This encourages a "same team" mentality. It's also the perfect time to set your family values and bring a sense of unity in what you do as a family. Here's a free guide for Shaping Your Family Values to help you do exactly that.
Focus on opportunities, not restrictions. Ask yourselves as a family, what opportunities do we have right now in this unique moment in history? What are creative ways we can take advantage of this moment? Anything is possible. From learning a new language to taking online art classes to completing a home project or launching a podcast, what opportunities are there that you can jump on? This crisis could be the birth of something positive if you let it.
9. Stay connected to true community.
Think about the power of our digital age. We have an amazing opportunity to use technology to stay connected to friends and family. 
My daughter is very social and was so disappointed that so many fun events have been canceled with her friends. So I scheduled some "virtual playdates" for her. Today, she and her friend played Barbies together over FaceTime. She LOVED it. It filled her love tank. 
We've been FaceTiming our family members on an almost daily basis to check in on them and to encourage each other through this rough time.
One of the most dangerous things we can do during times of physical isolation is to isolate ourselves emotionally as well. The more we isolate ourselves, the more lonely we can feel and the more fearful we can become. When we stay connected to others, it helps remind us that we are NOT alone in all this. We see that others understand and are walking through this crisis with us.
Be creative in building community. Can you do a Google Hangout with another family? Host a Zoom call with some friends? Go Live on Facebook to encourage some people? Stay connected. It makes a huge difference.
Now is Your Time
There's nothing quite like a crisis to bring us to the end of ourselves. But times of crisis also have an incredible way of reminding us what's most important. It strips away all the things that seemed overwhelming before and brings you back to the basics of what matters most. And over and over again, you'll find that God and family are the things you care about.
Times of crisis are defining moments in our lives. Instead of letting fear dictate your actions, embrace the moment and lean into what matters most.
Like this post? You may also enjoy…