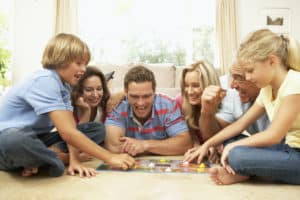 It's Staycation time! Studies show that one of the best ways to create memories is to break out of your normal routine and try something new. That's why family vacations are some of the strongest "memories" that kids make in their growing up years. [Read 7 Reasons to Travel with Young Kids]
How Can I Make My Staycation Fun?
When most people think of a staycation, it's because they don't have the time or money for a REAL vacation. I totally get it. But one year, my husband and I took a staycation and it quickly became one of our FAVORITE vacations ever! Why?
Take the pressure off. You know when you save up a ton of money and go on this huge trip that's supposed to be "once in a lifetime," only your luggage gets lost, you get food poisoning and the kids just aren't impressed? While big trips can be fun, they can also create a huge expectation for perfection. The beauty of a staycation is that the pressure of perfect is off and you can simply enjoy what you have.
Enjoy the comforts of home. For whatever reason, I have the hardest time sleeping in hotels. The pillow's never right and my brain just can't settle down to get good sleep. But when you stay home, you don't have to do without any of your favorite things.
Focus on Connection. No vacation, whether a staycation or otherwise, is perfect. But the best part of a staycation is focused time with the people you love (including yourself). Don't focus on what you're NOT getting to do. Instead, focus on the PEOPLE around you and enjoying them without the busy schedules.
Do Something New or Special. Maybe the scenery hasn't changed, but that doesn't mean you can't have the fun of an adventure! The most memorable thing about a vacation is breaking out of the ordinary. So find some fun, affordable ways to do that at home! There are lots of ideas below.
What Should I Do On My Staycation?
Here's the beauty of it: whatever you want.
Whether you crave fresh adventure or some good, old-fashioned relaxation, you can make that happen with a staycation! The good news is that you don't have to drop big bucks or hop on an airplane for an expensive vacation in order to break out of the routine and create lasting family memories. Whatever your budget or schedule, there are fun things you can do in any weather that your whole family will love!
Check Out These Staycation Ideas:
1. Explore Your Hometown With Fresh Eyes
Pretend you're a tourist and take time to discover the wonderful things your own city has to offer! Visit a museum, discover a new coffee shop, get a City Pass like a tourist might and try a bunch of places throughout the week! My whole life, I lived 1/2 mile from President Garfield's home, but I never went there because it just wasn't on my radar.
Sometimes it takes a staycation to realize the hidden gems in your own hometown. Google "top activities" or "what to do with kids" in your city and enjoy a week of exploring!
2. Create a Destination in Your Own Home
Maybe a tropical vacation isn't in your budget for this year, but you can bring the tropics to you! Check out your local party store or surf the net for some fun palm trees, paper lanterns, or other "destination" decorations to bring a breath of fresh air into your home.
Set the mood by playing some tropical music or a bird soundtrack in the background. Make some fun kid-friendly drinks and pick up some of those little paper umbrellas. Voila! Tropical fun for the whole family.
3. Go Swimming
If your kids are anything like mine, swimming is one of their FAVORITE parts of any vacation. If it's hot out, find a sweet local pool, beach or splash pad. Even if it's freezing outside, you can still find a local YMCA or community center with a heated pool and take your kids for a winter dip! A local hotel is another fun option for swimming.
4. Do a Creativity Challenge (Go Screen-Free for a Day)
If you tell your kids, "Let's go screen-free today!" there may be many meltdowns in the land. But instead of calling it that, do a "creativity challenge" for your kids. Envision them to spend a day PRODUCING content instead of CONSUMING it.
Let them create art, try to invent something, write a story, build something out of legos, put on a play, make their own board game, you name it! If you're okay with using screens, then let them create a podcast or a youtube video instead of watching one! Then at the end of the day, do some old-fashioned show and tell to see what everyone came up with!
5. Take an Overnight or Weekend Getaway
Maybe a whole week is more than your budget or schedule can handle, but with a little saving ahead of time, maybe 1 night in a hotel would be doable!
Find a fun place within a reasonable drive (1-3 hours) and make a mini-vacation out of it! Book a hotel that has a pool and a free breakfast or check out Groupon deals for indoor water parks in your area. Find a bed and breakfast in a sweet looking old house. Be creative!
If you wait until a few days before or even the day of, you can book through hotwire and grab an amazing deal! Be sure to pack some games and budget for eating out or ordering a pizza. Even just one night away can be a fun adventure and something you all remember.
6. Do a Project Together
A great way to connect as a family is by working together! Tackle a project you've been meaning to do, build something, or make something together. If you don't have a specific project in mind, find a big box and let your kids create something out of it…a rocket ship, a playhouse, or whatever! Another idea is to bake something or try a new recipe together!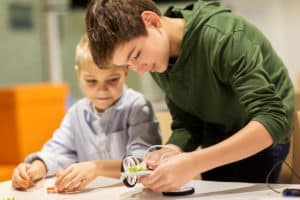 7. Host a Talent Show
Let your whole family demonstrate their talents together! Plan a talent show for some time during your staycation and let your kids "sign up" to sing, dance, do a skit, magic show, or display a piece of art or lego structure. (Hint: Everyone will have a lot more laughs if parents participate too!)
Create a "stage" in your living room or family room on the day of the event and cheer for each person as they muster up their courage to perform. Celebrate afterwards with an ice cream party!
8. Camp Out (Indoors or Outdoors)
Whether you're a fan of camping or not, tell your kids you're doing a campout and they will LOVE you forever! Obviously, a camp out usually happens outside, but it doesn't have to be fancy. Pitching a tent in your own backyard can be just as fun for kids as going to a campground.
And if the weather outside is frightful, do an INDOOR camp out!
Break out the sleeping bags and set up camp on the living room floor. (If you have a big enough space, you can even set up a tent indoors!)
Make oven s'mores or roast marshmallows over a candle.
Put on a soundtrack of outdoor sounds (crickets chirping, etc.).
Get some glow-in-the-dark stars and stick them on your living room ceiling.
Tell stories, have a sing-a-long or play games together!
Use these open-ended questions to connect with your kids!
9. Try a New Restaurant
Part of the fun of vacation is eating out! But when we're at home, we can get stuck in a rut…the same pizza place every week. Take this opportunity to try something new! Google the best restaurants, best breakfast spots or best cheap eats in your area and take your taste buds on vacation too! If your kids are little, consider getting takeout from a new spot instead 😉
10. Splurge on a Fun Activity
Doing something you wouldn't normally do is a great way to create memories for your whole family. Go bowling, visit a jump yard or indoor gym, go ice-skating or roller skating, check out the zoo or aquarium or a fun museum, see a movie in the theater. Set aside some money to do a fun activity that is out of the usual and create some new memories!
11. Schedule a Date With Your Spouse
Spending time together is one of the best parts of vacation! So plan ahead and make time for some fun with just you and your spouse. Book a babysitter or swap babysitting with a friend for some extra time together. Be sure to break out of the rut and do something new! Or you can check out these 12 Fun Dates You Can Do At Home (After the Kids Are in Bed)!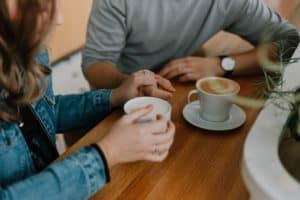 12. Host A Party or Dinner With Friends
It's so hard to find time to hang out with friends. A staycation is a perfect chance to re-connect! Plan a full-fledged party or a simple dinner and invite some of your favorite people over for a night of food & fun!
Whatever you choose to do, just remember that a little intentionality to break out of your routine and spend quality time together as a family can be just as memorable as hopping on a plane for an exotic destination. So leave the laundry for a week and invest in your family!
Like this post? You may also enjoy…