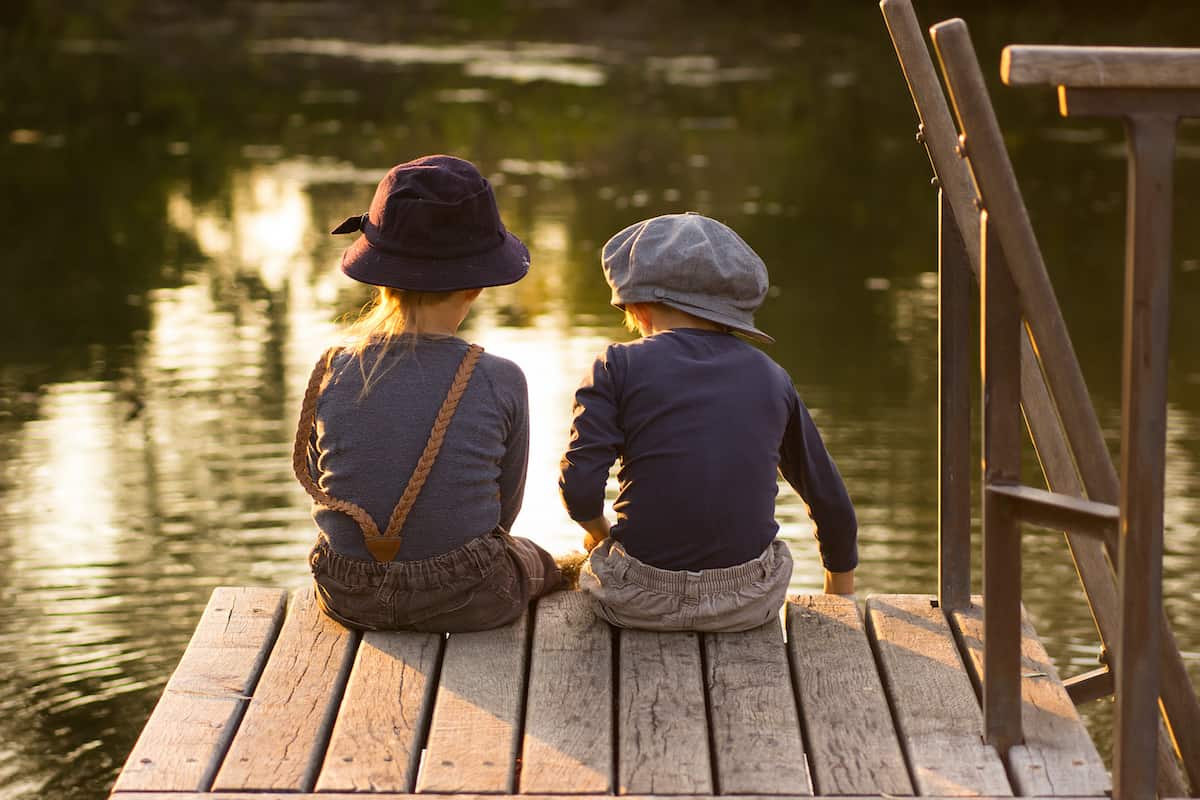 Do you remember what summer felt like as a kid?
There was something magical about summer…nowhere to be, nothing you had to do, and every opportunity to relax and have fun. It almost felt like summer as a kid was an entire year in itself!
I don't know about you, but summers have changed a bit for me over the years. As you get older they feel like they go faster and faster.
Want to listen to the podcast episode about this? Click below!
Now, in the constant swirl of kids' activities, work schedules, household duties and the ever-tempting draw of phones, iPads and video games, it feels like summer is gone in a blink of the eye.
Yet, we find ourselves in an interesting situation this year in light of the global pandemic. Some things are starting to feel more normal, but a lot of things still aren't. Most summer camps are cancelled. The place my daughter goes for ballet class is doing virtual classes only. And so many families have had to cancel, postpone or drastically change their vacation plans.
It's easy to feel like we're "missing out" this year, but nothing could be farther from the truth. What if this were actually an opportunity to give our kids a taste of a good ol' fashioned summer…maybe even their best one ever?
Here are 5 Ideas for an Old-Fashioned Summer:
1. Lots of Unstructured Play Time
Being bored forces kids to be creative. It's actually one of the best things you can do for them.
I remember walking around as a kid in the summer, wondering what to do. Then my mind would start to imagine. One summer, I created a super secret spy agency. My #1 goal was "never to be seen while on a mission." In fact, it may or may not still be in existence. I'm on a mission right now…do you see me? Exactly.
For some reason, we have this misnomer that a major part of our job as parents is to entertain our kids and keep them happy. But nothing could be farther from the truth.
Boredom does not equal unhappiness. (I know, I know, tell that to the whiny voice begging you for an iPad, right?)
Boredom is a portal to creativity.
It's hard to be creative when you're simply consuming content from another source. But when we allow our minds to wander, to observe, to imagine, that's when true wonder and creativity comes to life.
Creativity and problem-solving are actually two of the most valuable skills in today's workforce. We're seeing that having a degree…even two degrees…in your field doesn't necessarily get you the job. But raising kids who are creative problem-solvers will empower them to think outside the box and get that job or create their own business instead.
The other thing that boredom does is forces our kids to examine their own thoughts and feelings.
Every time they come to us because they're in an "uncomfortable" state of boredom and we jump to give them a tv show or an iPad or a snack to fill the void, we are inadvertently teaching them that when their feelings are uncomfortable, they need to fill that need with entertainment or food instead of examining their heart.
Whoa.
So don't be afraid to let your kids be bored this summer. It's actually one of the best things you can do for them.
The next time they come to you complaining of boredom, try this, "You're bored? Good! Being bored is a great opportunity to practice creativity and I know you are super creative, so let me know what you come up with!"
2. Outdoor Adventures
My husband grew up on a huge farm property and he would spend HOURS each day in the summer just exploring.
Nature is healing to our souls.
It helps us to feel balanced, to relax, to learn, and so many other things. It lowers stress & anxiety. Plus, exercise releases endorphins and helps us feel better overall.
Our kids NEED to be outdoors. But you don't need a fancy swing set or a giant trampoline or a backyard pool for your kids to have fun outside.
Let them exercise creativity as outdoor adventurers!
Here are a few of my favorite old-fashioned outdoor activities:
Skipping rocks in a creek or pond
Making mud pies (or digging in the dirt)
Catching fireflies
Making a daisy chain or picking flowers
Pooh sticks (from Winnie the Pooh…it's a thing)
Find a walking stick and go for a hike
Hunt for bugs
3. Summer Foods & Smells
The senses of taste & smell are deeply connected. You can't eat something without smelling it. And smell is one of the most powerful tools we have for recall.
Think of a time you walked into a place or set foot outside and smelled something that immediately brought you back to a time or place in your life. You probably experienced the memory or emotion before you had really even identified what the smell was.
Your sense of smell is linked to memories.
Instead of rushing through summer this year, think about the tastes and smells that you want your kids to remember for years to come.
Things like…
Fresh-squeezed lemonade (or just buy some at the store)
Roasting marshmallows over a campfire (s'mores anyone?)
Corn on the cob with melted butter & salt
Juicy watermelon
Hamburgers on the grill
Choose your favorites or try something new and make memories with your kids!
4. Low-Key Family Vacations
I'm pretty sure every vacation of my childhood was a low-key family vacation.
Part of what makes vacations so memorable is that it represents breaking out of the "norm" of your regular activities. That's why so many people identify family vacations as some of their most memorable experiences growing up.
But the good news is you don't need an elaborate vacation and you don't even need to leave the house to create a memorable "vacation" experience for your family.
Here are a few great low-key vacation ideas:
Road Trip – If you can safely visit family by car, a road trip may be the perfect vacation this summer!
Day Trip – Instead of booking an overnight stay, find a fun place you can get to within a 1-3 hour drive and make a day trip out of it! A waterfall, a hike, the world's biggest ball of yarn, a nice coffee shop, any little thing that's out of the ordinary can make a great day trip.
Staycation – Don't think you need to leave the house to give your kids a memorable experience. As long as you do some things that are out of the normal routine, a staycation can be a lot of fun! Check out more staycation ideas here.
Backyard Campout – Put up a tent in the backyard. I promise your kids will have just as much fun if not more than going somewhere. If that doesn't work, put up a tent or make one in your living room! Make oven s'mores and put a crackling campfire reel on your tv and your kids will have a blast. (Plus, you can still *maybe* get some rest.)
Camping – This is actually still one of the safer ways to vacation right now, especially if you can camp somewhere that lets you be separate from people. Some of my husband's best memories as a kid involved camping in a tent in the middle of nowhere. Camping for me was a little different – my family had a tiny camper.
I'll never forget the summer I was 6 years old and we went camping. My mom was 8 months pregnant with my brother and she and I were relaxing at the little lakefront beach. She told me to go get my dad so he could come enjoy some time with us.
As I walked around the lake to where my dad was tinkering with something on the camper, I concocted a scheme in my little 6-year-old imagination. "Why not go beyond just asking Dad to come back with me and, instead, tell him Mom is in labor and see what happens?"
So I started to run, and the more I ran, the more elaborate the story in my head became. By the time I reached my Dad at the campsite, I was huffing and puffing and pulled off an epic version of, "Dad! Mom's in labor and needs you NOW!"
He took off running and we ran together all the way around the lake to find my mom peacefully relaxing on the beach. "What?" my mom asked as she noticed the panic on my dad's face. "Aren't you in LABOR?" he desperately retorted. "Of course not," she said as they both turned to look at me and my sheepish grin.
Needless to say, camping can elicit creativity for kids too. Just take their comments with a grain of salt.
5. Porch Life
As a kid, I remember seeing older people sitting out on their porches sipping a glass of lemonade for what seemed like hours on end. I also remember thinking how boring that was. Why sit on your porch when you could be riding a bike or choreographing your own rollerblading routine?
But now that I'm a little older, I finally get it.
Life moves faster and faster as you get older and it's so easy to lose track of what's truly important in the midst of the busyness.
My husband, Michael, and I have had a number of conversations recently about what it would be like to live a slower-paced life. It actually sounds pretty glorious right now.
Because with young kids around, nothing ever feels "slow."
But there's something powerful about sitting on the porch.
It forces you to breathe. It slows your heart rate.
It lets you observe both people and nature.
It grounds you. Even as few as 10 minutes of porch sitting can help you reconnect to the world around you as you experience it through your 5 senses.
It also creates space for thinking, feeling, dreaming and imagining.
Sitting on the porch also elicits gratitude. There's something about just sitting and breathing fresh air that suddenly reminds you what life is all about. It helps you feel thankful for what you have. Not what you want to achieve in the future, but what you have right here, right now.
My husband and I have been trying to take at least 20 minutes a day this summer to sit on the porch. And it has been amazing.
But it's been hard for me to give myself permission to take the time.
The other day, Michael had to woo me out there. And once I was there, I started complaining about feeling overwhelemd because there were dishes to do.
Then he said something that struck me. He said, "If we're stressed out by a pile of dishes, what has our life come to?"
And he was absolutely right. If that's where we're at, we're focusing on the wrong things.
Yes, it's important to do the dishes and the laundry and work and the "things" of life, but if we let the stress of those never-ending tasks rule our lives, we will never be happy or feel fulfilled.
We have to let go of our unrealistic expectations that everything has to be right and finished and perfect and checked off our list for us to enjoy living and be content with what we have.
It's simply not true. The list will never be done. And that's okay.
It's so important to take time each day to let that pile of dishes wait while you sit on the porch and read a book or connect with your spouse or watch the world and thank God for what you have.
Will you try it?
I want to encourage you not to feel like you're missing out this summer if a bunch of things are closed or canceled.
What if this could actually be the best summer your family has ever had?