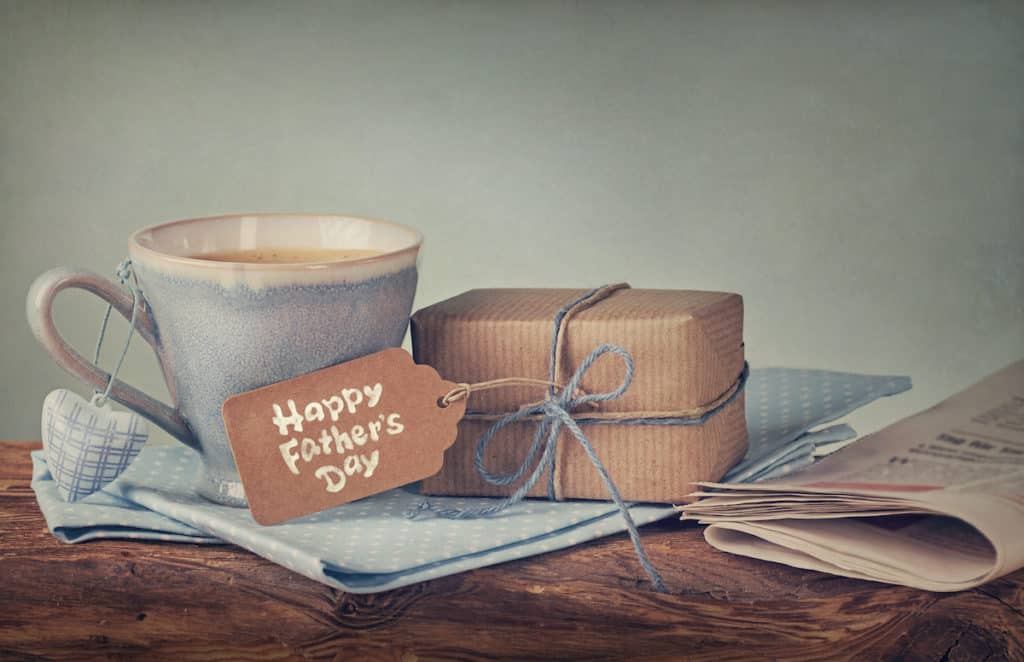 What do you get for the Dad who has everything? I mean, he has YOU, right? The good news is you can properly celebrate Dad with something he will use and LOVE and still keep it on the cheap.
Check out these 10 Perfect Father's Day Gifts for Under $25:
This post contains affiliate links. That means I get a small commission from qualifying purchases at no additional cost to you. I only recommend things I use and love or would purchase myself! Read my full disclosure here.
1. A Yeti Mug
Okay, I have to admit that I'm pretty partial to this one. My friend got me one a few months ago and I'm totally hooked! Not only does it keep my coffee hot for HOURS (every parent's dream), but it's way more pleasant to drink out of than your traditional travel mug. The price is so reasonable too!
2. The Perfect Pocket Knife
Is my husband the only one who likes to carry "tools" around with him just in case? Maybe it's because he was an Eagle Scout, or maybe it's just because most guys love a great pocket knife. For the price, this one packs both quality and style.
3. A Dad Shirt
I mean, why not? Every Dad loves a good t-shirt, right? My husband had 90 of them when we got married. No, I'm not exaggerating. Pretty sure half of them he got for free, if that tells you anything about their quality and style. It's pretty much part of the unspoken dad code that you need a mish-mash collection of random t-shirts. This one is the perfect addition to any collection.
4. A Delicious Bag of Coffee
If food is the way to a man's heart, coffee is the way to his…better self. My husband recently told me, "I love my family more than coffee. But if I could only choose one in the morning…" Don't make him choose! Grab a bag of small-batch roasted coffee from Intelligentsia or Stumptown or your local coffee shop and make both dreams come true. If you want to uplevel your Father's Day gift game, I highly recommend a coffee subscription to Mistobox! We've been using it for almost 2 years now and my husband and I both love it! Use this link to get $10 off.
5. A High-Powered LED Flashlight
Flashlights are another one of those vital Dad tools that no Dad should live without. I love this one, because not only does it have 3,700 5-Star reviews, but the price is so affordable! You may just want to order two and keep one handy for you as well.
6. An Anti-Racism Book
There's a lot swirling in the media right now and people around the world are being awakened to the reality of racial inequality. Most Dads have a natural instinct to stand in the gap and we need Dads of every age, race and background to take a stand for justice. One of the best gifts you can give Dad is the gift of education. There are TONS of great options out there. Here's one to start with.
7. Beard Oil
If Dad is sporting a beard these days, then a good bottle of beard oil is worth its weight in gold. This one is a great place to start!
8. Coffee Aeropress
This is my husband's FAVORITE way to make coffee. It packs the rich flavor of a French Press but without the oils. It's also great for traveling, because you can fit it easily in your luggage! If your husband loves a great cup of coffee, this gift is perfect. This is the only item on this list over $25, but only by a little.
9. A Bullet Journal
Even Dads need a dream. Every good dream needs a plan. Bullet journaling is a great way to make your dreams a reality…or simply get stuff done. Check out this one! While you're at it, pick up a copy of this book that explains how to do it.
10. Beef Jerky
Nothing says, "Happy Father's Day" like a piece of meat. It's pretty much a giant pat on the back for Dad and the way to his heart. Not gonna lie, I wouldn't mind sharing a bag of beef jerky like this either. But it's Dad's day, so I'll buy my own. You can also buy and cook him a big, juicy steak.
What's the perfect pairing with your gift for Dad? A Handmade Card!
Every year my husband assures me that he doesn't need anything for Father's Day and not to bother spending money on him. And, of course, every year I ignore him and get something anyway. Father's Day is a great opportunity to show Dad that you appreciate him and all he does.
But you don't have to break the bank to give Dad something that will make him feel loved. If you've got young kids, then this fun and easy little craft is perfect! You can download the free printable template and easy step-by-step instructions below!