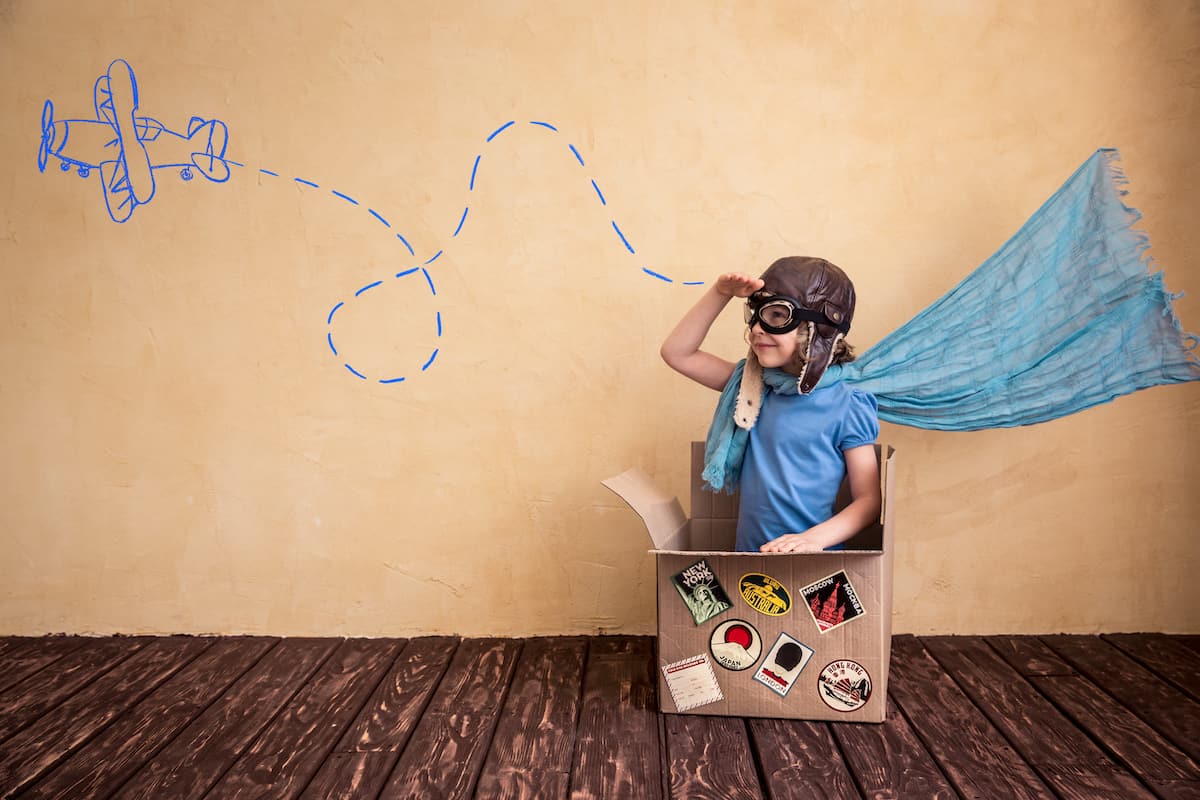 Kids cooped up inside? These 15 Indoor Activities for Kids are just what you need!
Between working from home, keeping everyone fed, and trying to prevent my house from looking like a tornado every day (still happens most days), entertaining my kids on top of all that feels impossible.
But there's good news!
Did you know that one of the most important and effective ways to raise creative kids is simply letting them use their imaginations and play on their own? 
The Case for Imaginative Play
So many times, as parents, we overcomplicate learning for our kids.
Yes, there is definitely value in formal education, field trips, and guided lessons.
But, allowing your child plenty of free time for imaginative play is actually one of the best ways to support learning and creativity!
Imaginative play enhances brain function, lowers stress, increases communication skills, aids learning and encourages the formation of healthy relationships in kids, according to a clinical report in the Journal of the American Academy of Pediatrics.
You can take the pressure off and encourage your kids to explore their imaginative side, knowing there are tons of benefits for them…and you.
How Do I Get My Child to Play By Herself/Himself?
When my first daughter was a toddler, she wanted me to play with her All. The. Time. So, lots of times, I did! And as much as I love my daughter, I found myself exhausted and frustrated trying to keep her entertained all the time.
Some kids play independently without any prodding, while others need some help making the transition.
If your child falls in the second category, here are a few tips:
Set the expectation of independent play: Gently explain to them that moms and dads play with their kids sometimes, and then kids play by themselves while moms/dads get work done. Playing is a kid's "job" while moms and dads have other jobs to do.
Help them get started: Give them an idea, help them set up a station or activity, and make sure they have some resources to start with.
Play with them for the first 5-10 minutes: Tell them clearly, "Mom is going to play with you for 5 minutes, then you can keep playing while Mom does her work." You can set a timer so they know when it's time for you to transition.
Stay within range: For some kids, the real issue is wanting to be close to you. If this is the case, let your child set up their imaginative play close by to where you will be, so they can still see you and feel close to you.
Use Gentle Responses: If your child is complaining of being bored, begging you to play with them, etc., gently encourage them to continue playing on their own with phrases like these:

"You're doing great! Keep going."
"Yes, I'd love to play with you, but I need to get some work done. We can play together at 2 o'clock. But right now, you need to play on your own, okay?"
"It's okay to be bored. I know you're creative. What idea can you come up with to play right now?"
The more you encourage your kids to play on their own in this gentle way, the more comfortable they'll become with the idea. For a while, it seemed like my one daughter would NEVER play independently. But now, she amazes me with all the creative ideas she comes up with. She loves playing by herself now and even invites her sister into her epic imaginative play ideas.
Check out these 15 Indoor Activities for Kids to Inspire Independent Play:
1. Day at the Zoo
You can finally make use of that giant collection of stuffed animals your kids have! Let them put similar animals together and create a zoo! They can use chairs, baskets, or whatever they want as "cages." They can even create a ticket booth at the entrance and use these free printable zoo tickets I created!
2. Beach Fun
Turn on a rolling ocean scene on your tv, get out some beach towels and toys and let your kids make a beach! If you have a blue/green blanket, that can be the water and a tan-colored sheet or blanket can be the sand. They can even pack a picnic of snacks and take them to the beach!
3. Christmas Morning
Who doesn't love Christmas morning? One of my kids' FAVORITE things to play is Christmas. I just give them a roll of Christmas wrapping paper (usually one that's older, hasn't been used much or I just don't like it), some tape and kid-safe scissors and let them "wrap" their own toys and play Christmas morning.
BONUS TIP: If you have a small Christmas tree you can access easily from storage, that will sweeten the pot. Or they can turn anything into a makeshift "Christmas tree" with a little creativity (or a strand of lights).
Variation: This also works great for playing "birthday." Give your kids a roll of birthday wrapping paper, some streamers, and decorations and let them throw a party.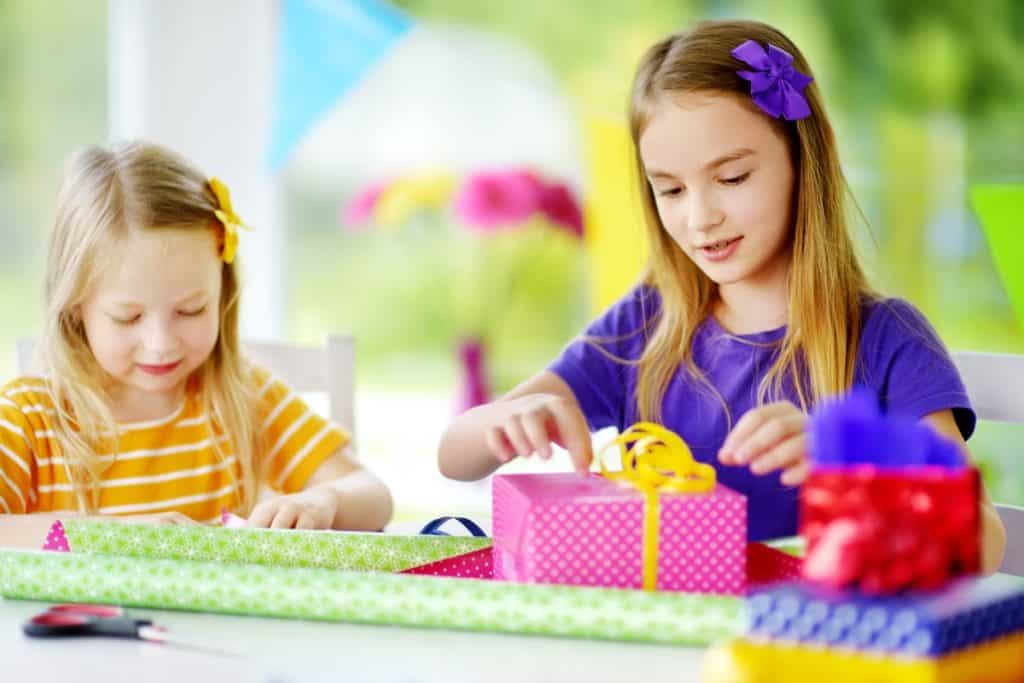 4. Animal Adoption Agency
For my daughter's birthday one year, we hosted an animal adoption themed party and it was a huge hit! Some of her friends still talk about how much fun they had. The best part is that it's super easy to do! Have them get out their stuffed or toy animals. Then, create "stations" for them to go through (or let an older sibling create the stations)…
Station 1: Choose your pet (place toy or stuffed animals here)
Station 2: Give your new pet a bath (plastic container for bathtub – imaginary water is fine, bath toys, empty bottle for "soap," and a towel to dry off.
Station 3: Pet Grooming – brush, comb, bows
Station 4: Make a collar for your pet (have string, yarn or strips of paper for them to make one easily)
Station 5: Feed your pet (use play food or a real snack like goldfish crackers or popcorn your kids can have too)
Station 6: Adoption Certificate Signing – Make it official with these FREE printable adoption certificates!
5. Forts
There are SO many different ways to make a fort. As a kid, my favorite way was using cushions on the couch. Let your kids get creative and not just make the fort, but fill it with "rooms" and fun items so they can play in there all day.
BONUS TIP: Bring out a strand of Christmas lights to make it the coolest fort ever.
6. Transform a Box
Some of my favorite imaginative play memories as a kid included turning a regular old boring box into something magical. From a rocket ship to a playhouse or anything in between, find the biggest box you can and let your kids go crazy with crayons, paint (if you're willing), stickers, etc. If you want to, you (as the parent) can use a knife or scissors to cut the initial shape (like windows) and then let your kids take over. Check out these 77 Ideas for cardboard box creations!
BONUS TIP: Think outside the "box" and consider cutting pieces of cardboard and taping them back together into something larger or differently shaped.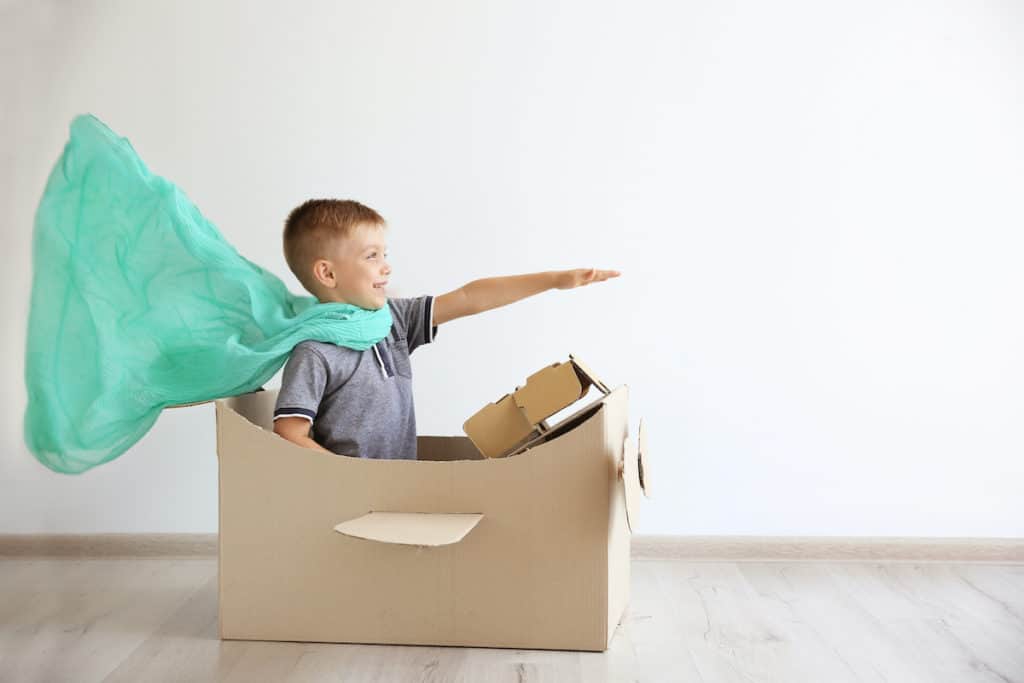 7. Create a Vacation Destination
From Disney World to Hawaii to an amusement park, encourage your kids to make their own vacation spot and have their dolls/stuffed animals/barbies/action figures travel there to enjoy it. My daughter loves to create Disney World for her Barbies. She makes her own rides, restaurants, and fun activities for them to complete.
8. Library
I loved playing this as a kid! Print out these free printable library cards to make it legit. Have your kids set up a bookshelf or fun display with some of their favorite books and a checkout desk with something to "scan" books and library cards. They can even host a storytime for dolls and stuffed animals to attend.
9. Talent Show
Have each child prepare a song, a dance, a puppet show, memorize a poem, anything! When they're all ready with their presentations, you can sit and be the "judge," awarding them titles like "most creative," "funniest," best musical performance," etc. Or let an older sibling or the whole family judge!
10. Cooking Competition
Adjust this according to your child's age or competency. For older kids, let them pick a recipe and cook a meal (even breakfast or lunch) for the family. For younger kids, give them some basic ingredients like graham crackers, peanut butter, and bananas, and let them "create" a culinary masterpiece. Or, use play dough, kinetic sand or plastic food for little ones to play with.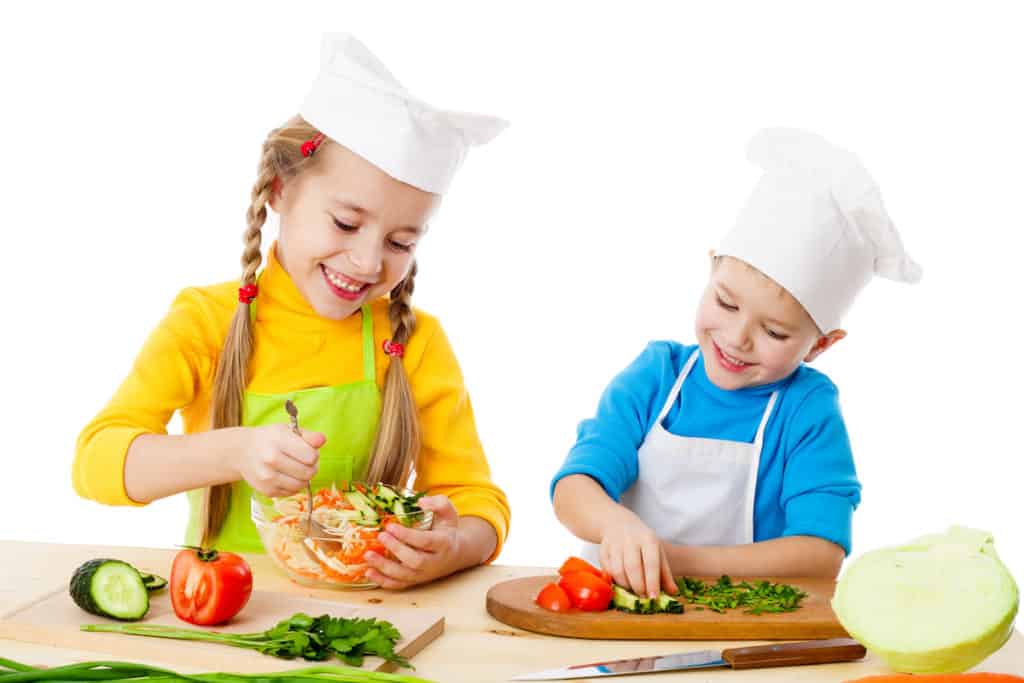 11. Fashion Show
Have your kids create a makeshift "runway" with a yoga mat or some strings of Christmas lights. They can do fun stations like these:
Station 1: Fashion Design – Depending on their age, they can sketch fashion ideas or use a kit like this.
Station 2: Outfits – Putting together clothing items to create a new trend
Station 3: Accessories – Lay out jewelry, scarves, hats, shoes, etc. to complete their ensembles
Station 4: Hair & Makeup – This can be simple with brushes, hair clips, bows and lip gloss or as extravagant as you want to make it.
Station 5: The Runway – Let them model their fashionable selves to siblings or seated dolls & stuffed animals
12. Living Room Campout
Get out a pop tent or make a fort for this one. Put a campfire on the tv and/or play a woodsy soundtrack to set the mood. Your kids can "explore" the house with a backpack full of supplies, make shadow puppets with flashlights, roast pretend (or real) marshmallows over a fake campfire and have a blast!
13. First Aid Station
This can be for pets or people! Get out any play medical supplies like plastic stethoscopes, thermometers, shots, etc. Then take a quick look through your own medicine cabinet and look for supplies you don't really use like old bandaids, gauze, empty syringe, ace bandages, etc. Sometimes I use one of those $1 boxes of bandaids from the Target dollar section and let my kids use them on their dolls. That $1 box takes their creative play to a whole new level in their minds. Have your kids set up a little first aid station and let dolls, stuffed animals or siblings come get taken care of!
BONUS TIP: Use a Little Tykes car, Barbie car, Tonka truck, or an empty cardboard box (diaper boxes work great) to be an ambulance for rushing patients to the clinic.
14. Post Office
Give your kids some supplies to make "mailboxes" for themselves. Any small box like a cereal box, oatmeal container, etc. could work. They can cover it with white paper and decorate it with crayons, markers, and stickers. If you have some old thank you notes or blank cards, your kids will love writing notes (or scribbling in them, if they don't know how to write) and delivering them to each other's mailboxes. For just one kid, they can make mailboxes for dolls or stuffed animals instead.
15. Puppet Show, TV Show or YouTube Channel
Let your kids' creativity shine with a puppet show! Set up a box, small table or a chair with a blanket over it and let your kids practice putting on a show with action figures, Barbies or real puppets. A fun twist on this idea is to let them create their own tv show or "YouTube channel" (you don't have to actually post it online). If you're up for it, you can even set up a phone or tablet to record their show when it's ready. They'll go nuts.
A Little Inspiration Goes a Long Way
Lots of times, as parents, we feel the pressure to entertain our kids. But remember that, with a little inspiration like the ideas above, you can teach them to play on their own. I promise they will eventually catch on and come up with their own ideas that will blow you away!
Like this post? You may also enjoy…