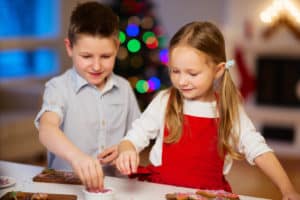 It's the most wonderful time of the year! And a great time to connect as a family. Check out these great Christmas traditions submitted by various moms, either from their family growing up or new traditions they have created with their own kids.
(This post may contain affiliate links. As an Amazon Associate I earn from qualifying purchases. I only recommend things I own and love or that I would buy.)
1. Traveling Dinner (Suzanne Beverick Johnston)
This is a great one to do with friends or extended family! Pick a night during the holiday season and choose 3 houses (or locations) for a progressive dinner! Each hosting family (or individual) is responsible for a different part.
First House: Appetizers
Second House: Dinner
Third House: Dessert  
You can choose to spend as much (or as little) time at each location as you want. If you want to do more time, consider choosing a weekend day and starting early, like 4pm. Suzanne says her family did this AFTER Christmas day (the week leading up to New Years) so that the kids could see what everyone else got for Christmas and spend time playing with each other's new toys. So fun!
2. Advent Angels (Sarah)
Some time in early December, write down the names of everyone in your immediate family and put them in a hat. Then have each family member draw a name from the hat and not tell anyone who they have.
As an "advent angel," you then secretly do things for that person throughout the whole holiday season. On Christmas morning, you reveal who you had! You can even do the reveal in a creative way, such as having each person bring a gift to the person they had.
3. Pajama Car Ride to look at Christmas lights (Kristan Rothman)
Have everyone (yes even Mom & Dad if you're so bold) change into their PJ's and hop in the car! You can bring your own hot cocoa & snacks or swing through Starbucks (they make "kid hot chocolate" that's a lower temperature) and "ooh" and "ahh" over beautiful Christmas light displays together as a family. You can use these fun conversation starters to get your family talking along the way! Don't be afraid to stay out past bedtime for this one because, according to Kristan, breaking the rules for this special adventure is half the fun! Check out these organic cotton pj's or these Let It Snow ones!
Variation: Jess Beard says when everyone's getting loaded in the car with Dad, she sneakily lays out brand new Christmas PJ's to surprise everyone when they return home!
4. Christmas Blessing & Communion (Karen Adams)
As a special tradition in her Polish family, Karen says that her grandmother would ask all the family to be seated. Then, she would go around to each person, break off a piece of a large wafer (or you could use any type of cracker or bread) and say a blessing over each person.
This is a powerful way to focus on the true meaning of Christmas by taking communion together and receiving a blessing from the matriarch (or patriarch) of the family. Not sure what blessing to use? Try Numbers 6:24-26 from Scripture or make your own!
5. Christmas Eve Game Night (Kim)
Have everyone get into their pajamas, then eat dinner together and spend the evening playing games! (Board games, card games, or some good old-fashioned charades are great options.) I love that this Charades game for kids has picture cards so even littles can play!
Finish out the evening by reading the Christmas Story (Luke 2 is a great one to use) and let the kids act it out! Kim says that her extended family did this and everyone (adults included) arrived in their pajamas. They even did a treasure hunt for kids to find the dessert! 
Variation: Marisa Waag's family attends a Christmas Eve service, then heads home for a game night & one present each!
6. 5 days of Christmas (Autumn Daldo)
Since kids are on a break from school, this is a great opportunity to spend some intentional time together as a family. Planning a few organized activities can help you not only connect, but also keep them from driving you crazy.
Autumn says during the Christmas break she plans a fun activity to surprise the family with each day for 5 days in a row. It could be anything from visiting a museum to building a gingerbread house together or whatever you want to dream up! Your kids will love it.
7. Christmas Music Wake-Up (Julie)
Christmas music is a great way to get in the mood for fun! Julie says on Christmas morning as a kid, her Dad would wake up before everyone else and turn on a special Christmas song. He would turn the volume increasingly louder until everyone in the house was awake. Then they'd all come downstairs for presents! 
8. One Gift on Christmas Eve (Anne)
A great way to connect in the midst of all the craziness is to gather around the Christmas tree on Christmas eve and have each person (one at a time) open a gift. If you have a busy Christmas Day planned visiting family or traveling, consider opening all your gifts on Christmas Eve! Then Christmas morning can be about enjoying your new gifts and spending time together.
9. Breakfast Out (Rachael)
After all the hard work leading up to Christmas Day, sometimes going out for breakfast or lunch after opening presents is just what you need! Rachael and her family have a tradition of going to IHOP. They always make sure to leave a nice tip for their server, especially since they have to work on Christmas.
10. Christmas Caroling 4 Ways (Debbie Roderick)
There are lots of fun ways to go caroling! 1. Debbie says her family would sing Christmas carols as they drove around looking at Christmas light displays. 2. Or you can always use the old-fashioned method of going door to door.
3. If that's too much outside of your comfort zone, then consider choosing 3 homes of people you know and alerting them ahead of time that you'd like to stop by. Bring some cookies or a small gift to give them and sing your heart out! 4. Another option is to visit a local nursing home and sing to the residents. It will probably make their entire week!
11. Fondue & Christmas Books (Autumn Daldo)
Special food is one way to build a great tradition that everyone looks forward to…even Mom and Dad! For Autumn's family, Christmas Eve is the one day each year that they do fondue! She puts out an array of goodies to dip in cheese or chocolate and then they read Christmas books together. They also do "pizza fondue," which involves hot pizza sauce with meatballs, breadsticks & mozzarella sticks for dipping!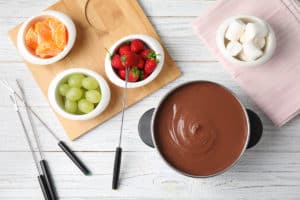 12. See a Live Performance (Michele Wolny)
There's something magical about going to the theater…for kids AND adults! So many places put on a production of The Nutcracker or A Christmas Carol or other fun things. If the theater or ballet isn't an option, check out local churches or performing arts centers for a more cost-effective or kid-friendly option. Consider dressing up, going out to eat and making a day of it!
13. Christmas Tea (Beth Hoff)
One of my personal favorite traditions is that the women in my family get dressed up and go to a tea room for an English-style tea experience. This is a place that serves up all different varieties of tea, along with fun little tea sandwiches, scones, and other goodies.
Each person chooses their own tea, which is served in a personal tea pot with a fancy tea cup to use. From the littlest girls in our family all the way to the grandmothers, we enjoy an afternoon together in this memorable way.
14. A Present for Jesus (Amber Myers)
I love Amber's family tradition! She says, "On Christmas morning, my Dad would read Luke 2 from his Bible. Then we would go get a special box that was under the tree every year that was our present to Jesus. We find the cards we filled out the year before with what we wanted to do for God and read them. Then we make new cards with a list of ways we want to grow spiritually in the coming year. We share them and then pray together. My mom would make us each a copy of our card to keep in our Bibles. It helped us focus on Christ at Christmas."
15. Birthday Cake for Jesus (Breanne Logue)
Why not remind ourselves & our kids of what we are really celebrating in a fun way? Breanne says on Christmas Day, she and her family eat birthday cake!
The kids can help make the cake the day before or you can purchase one ready-made. After opening presents, they have a special lunch (Breanne makes homemade chicken & waffles) and then you can sing happy birthday to Jesus and enjoy a piece of cake as you celebrate Him!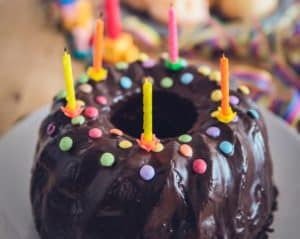 16. Christmas Eve Box (Alyssa Falkenstein)
A great way to connect with your kids is a Christmas Eve box! Fill it with a new pair of pajamas (Christmas themed or other), hot cocoa or a special treat, and a Christmas movie (or book) you can all watch together! You can either wrap up one big box for everyone or one box for each child. Such a fun way to give an experience to your family!
17. Indoor Snowball Fight (Katie Veach)
What kid doesn't love a good snowball fight? Katie and her family love to watch the movie Elf together, eat Elf cookies, and then surprise their kids with an indoor snowball fight! Or consider pausing the movie Elf at the snowball scene as you pelt your kids with snowballs! You can buy soft, fluffy ones like these!
18. Hidden Stockings (Sarah Gerrick)
On Christmas Eve, after the kids are asleep, hide their Christmas stockings. Let them enjoy the thrill of the treasure hunt when they wake up on Christmas!
19. Decorate a Gingerbread House with Friends (Beth Eidenmiller)
Whether you make your own from scratch or purchase a pre-made kit from the store, gingerbread houses are so much fun! Consider doing what Beth does and invite some friends over to decorate with you! You can provide the gingerbread (or graham crackers) and icing, and have each person or family bring some items to add to the array of edible decor. 
20. Gratitude Game (Donna Jenkins)
On Christmas morning, it can be easy to rip through presents like wildfire. But a great way to slow things down and focus on gratitude is to have each person pause before opening their gift and share something they're thankful for. Donna says this has really helped their family to enjoy presents so much more, especially since they get to watch each person open one at a time.
Whatever traditions you choose to enjoy, old or new, be sure to take time this holiday season to connect with your family, laugh together, and embrace the joy of Christmas. Thanks to all the moms who shared their traditions with us!
Like this post? You may also enjoy…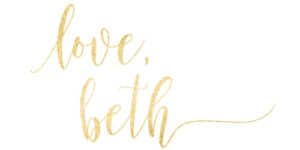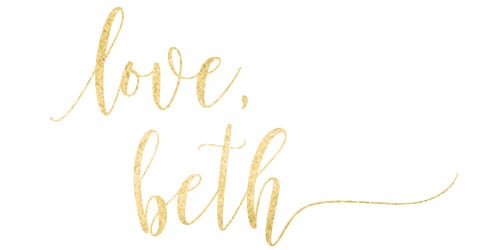 P.S. Spread the fun by sharing it on Facebook or Pinterest using the share buttons below! Also, be sure to sign up for our weekly newsletter for more strategies & encouragement.