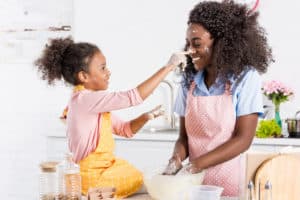 Isn't it crazy how you can go about your normal life, never even knowing there's a simple hack to do what you're doing quicker and more easily? Then one day, you happen to see someone doing it a different way and think, "How did I not know about this??"
I'll never forget the day my mother-in-law introduced me to press-n-seal, a WAY more effective product than traditional plastic wrap. Or the time my friend told me that investing in a high-quality, actually sharp chopping knife would change the way I see cooking…and it did.
Mom-Life is definitely an adventure, and there's always something demanding our time and attention. That's why I love discovering a new product that will save time, increase productivity, or just add a touch of joy to my kids' lives and our daily routine. These 10 things have done that for me, so I wanted to share them with you!
If you want more ideas for being productive, I created a great FREE resource: 7 Household Tasks to Automate Today.
Check out these 10 Genius Products to Make Mom's Life Easier:
This post contains affiliate links. That means I get a small commission from qualifying purchases at no additional cost to you. I only recommend things I use and love or would purchase myself! Read my full disclosure here.
These things are seriously amazing. I'm not a huge fan of sippy cups. They are SUCH a pain to keep track of…lids, cups, inserts…plus, most of them are made of cheap plastic, which is not really what I want my kids drinking out of all day long. When I discovered Boon Lids, I knew it was exactly what I needed. Not only are the lids fun and colorful for kids, but they fit on just about any cup in your cupboard, whether plastic or glass.
We use ours on these glass jelly jars most often. They're made of silicon, easy to stretch and fit, and they go in the dishwasher. Plus, they don't get all gross inside like some sippy cup lids, and you're never searching for the bottom half. Any cup will do.
BONUS TIP: They're also small and can flatten to bring with you on vacation, to a friend's house or to a restaurant to turn any cup into a sippy cup!
My kids are always getting bumps and bruises (that kid life). I used to just fill a plastic bag with ice, which inevitably ended up melting and the bag would open and spill water everywhere. Then I discovered these. They can be frozen or heated and they're just the right size for making little boo-boo's feel better.
They also come with these adorable covers, to help temper the cold or heat for your little one. My kids love the whimsical animal designs! Plus, the tears from getting hurt seem to disappear much quicker when I let them pick out which ice pack they want. The price is very affordable too!
Kids. Love. Straws. Whether you use plastic or metal or even those silicon ones that come with a thermos, straws get nasty SO fast. When I discovered these straw cleaners, it made me not dread my kids using straws anymore. They're SO affordable and you can throw them in the dishwasher whenever they need a refresh. We like to keep one by the sink and the other one stored in a drawer in case we lose the first. They also work great with these metal straws. I even use them for cleaning between slotted spoons!
It's a little bit ridiculous how much I love these. Whether you're writing a grocery list, a note to a friend, or filling out your planner, these brightly colored gel pens will be your new favorite. They glide smoothly, show up really well, and did I mention they're ERASABLE? I don't even mind letting my kids use them, because I know I can erase whatever they do if they happen to scribble all over my grocery list or something. My favorite thing to use them with is my Living Well Planner.
Um, can I get an amen? Pretty sure I haven't drunk an entire cup of coffee while it was still hot since my first child was born. And I LOVE coffee.
But no matter how delicious my coffee is, if it's not hot, I'm disappointed. So I grabbed this coffee warmer and it helps so much! It will keep your already warm coffee warm OR it will even warm up your cold coffee! NOTE: It is better than a microwave in that it doesn't "burn" your coffee as much, but keeping it on the warmer will mildly affect the flavor as any warming device will.
If you want a higher-end product for keeping your coffee warm, this Ember is on my dream list! And if you're a coffee nerd like me, you should definitely check out the coffee subscription my husband and I used called MistoBox that sends us a bag of small-batch roasted coffee from various roasters around the country. You can even build your own coffee profile with certain regions or flavor notes you like best. And it's cheaper than buying the equivalent sized bag at a local coffee shop, even after paying shipping! If you want to try it out, you can use this code for $10 off: 5SF0
When my oldest was a toddler, she went through this season where her daily temperature was higher than normal due to allergies. In my mom-level anxiety, I wanted to make sure that we were getting the most accurate temperature reading at all times. So I tried multiple different types and brands of thermometers (oral, forehead & ear) and the Braun ear thermometer was my favorite. It's still my top pick because it is…
Easy to use (and easy to read)
Fast and non-invasive (my daughter didn't mind it — MUCH better than a traditional oral one)
Reliable (it was consistently the most accurate reading — the forehead ones can be affected by outside temperature, so you have to be more in tune to environmental factors and your child's activity level)
Having a thermometer you can trust is such a relief. I still use and love my Braun 3 years later.
If I could only choose one item for the first 2 years of my child's life, it would this. From getting chores done hands-free to a trip to the zoo and everything in between, my baby carrier has been a LIFE-SAVER. It allows me to do so many things and still meet my baby's need to be close to me, to take a nap wherever we are, and even to nurse on the go (an acquired skill).
If you've never given it a try, do it! Even if one of your babies hasn't liked carriers, it's worth trying with the next. My first child wasn't a huge fan, but baby #2 LOVES being carried! My favorite carriers are the versatile soft-structured ones. I have this Tula and this Ergo and they are both amazing! I did a lot of research and chose these two specifically. They are easy to put on, and they keep your baby's legs and hips in an ergonomically correct position to prevent issues. ALWAYS make sure you get a carrier that properly supports baby's hips. (They are not all designed to do this.)
These things look super basic, but they have so many uses! Here are the 3 things we use them for most frequently: 1. Keeping food bags (like chips) closed.  2. Hanging kids' art on the fridge. 3. Holding a towel or blanket in place as a superhero cape (no joke). It's a great, affordable tool to have handy for a variety of uses.
Although I do my best to make sure we keep our space decluttered, there's always "stuff" that just needs a home. These plastic baskets from Target or these ones from Amazon are one of my favorite ways to keep our family's stuff organized in a stylish way! They come in a variety of shapes, sizes, and colors. They're also affordable, easy to clean, and they make organizing fun. (I'm totally an organizing nerd.) I use these for everything from bath toys to legos to crayons and art supplies and everything in between. If you're looking for a great tool to keep your space looking tidy, I highly recommend these!
My kids love smoothies. But you know what they love even MORE? Smoothie pops. My friend, Autumn, introduced me to these brilliant reusable smoothie pop molds and now I use them all the time. You can turn any smoothie into a fun snack or even a healthy dessert in just a few hours!
Whenever you make a smoothie, just make a little extra and pour it into however many of these molds you want and stick them in the freezer. You can also just mix up some fruit and yogurt in the blender and pour it in these for easy, homemade yogurt pops! Not only are they easy to hold and squeeze for kids, but they're easy to clean and can go straight into the dishwasher (a must for me). It's such a great way to save money and give your family a healthier alternative to frozen treats.
This one isn't a "product" in the same way, but it is hands down one of my favorite things for saving time and making life easier! I was super skeptical about trying a grocery delivery service when I first heard about it because I tend to be pretty picky about choosing groceries. But I decided to give it a shot and did the free trial for Instacart. I haven't looked back since!
I cannot even begin to tell you how amazing it is to lie in bed and order my groceries, knowing they'll be delivered within 2 hours. It's definitely been one of the best investments I've made to make mom-life easier. If Instacart isn't available in your area, check out the grocery delivery and curbside pick-up options at your favorite grocery stores. Many of them now have their own!
What great things would you add to this list? I'd love to know!
Like this post? You may also enjoy…