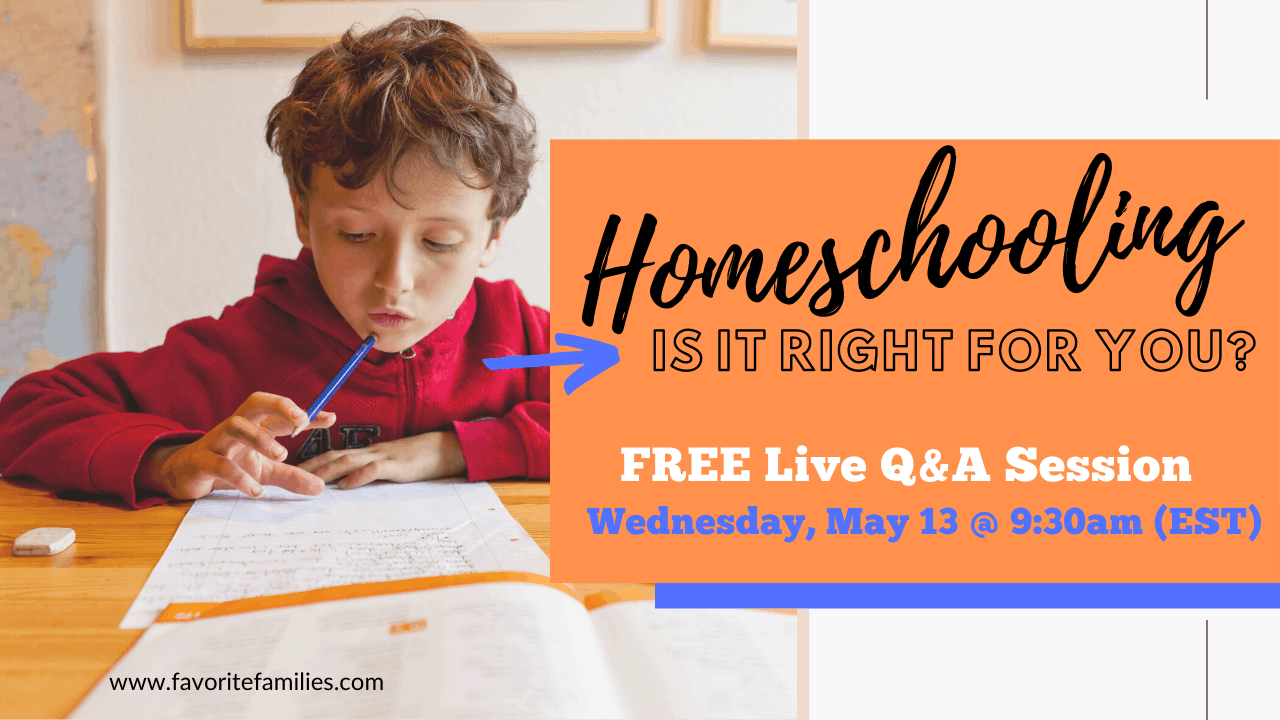 Like SO many parents right now, you may be asking yourself… "Is homeschooling right for my family?"
With so many things up in the air, nobody really knows exactly what school is going to look like this fall. Whether you've thought about homeschooling before or our current situation has piqued your interest, now is the perfect time to explore your options and see if homeschooling is the right fit.
If you're anything like I was when I was first thinking about homeschooling, you probably have a TON of questions!
That's exactly why I pulled together some AMAZING, experienced homeschool moms for a free live Q&A session to answer your questions and give you an inside look at homeschooling from a variety of perspectives.
We'll be answering questions like:
How do you choose a curriculum that's right for you?
How much does it cost? Can I homeschool for free? Are there tax benefits or grants?
What are the legal requirements? How do I notify the state? Do I have legal protection?
What about socialization? Doesn't my child need peer interaction?
What if I change my mind halfway through the year?
How do I homeschool multiple children with different needs and learning styles?
How do you keep younger siblings occupied while you're homeschooling?
What does a typical school day look like?
Can you homeschool even if both parents work?
What if my child has an IEP or special needs?
Will my child fall behind or miss out?
Can we still do extracurricular activities?
Do I really have what it takes to help my children thrive?
And more!
Having been where you are, we will also share from our hearts about some of the common concerns potential homeschoolers have, like…
I'm not a teacher!
I didn't go to college.
I'm not super organized.
I'm not the most patient person.
I'm awful at math (or English or science or whatever).
I don't have family support.
I work outside the home (or from home).
No matter what your situation is, the good news is you have options! I have known ALL kinds of different parents who successfully homeschool their children, from the most organized to the most relaxed, from working parents to stay-at-home parents, from textbooks to videos to online programs or a combination. There is no single "right" way to do it. You can tailor homeschooling to suit your unique personality, teaching style, and the needs of your child and family.
Who is on the Discussion Panel?
I hand-picked four incredible women to represent a variety of types & situations when it comes to homeschooling. Meet the panel!
Beth Eidenmiller – Mother of 4 boys, Beth is a working mom (business owner) who has been homeschooling for 10 years now! She was also homeschooled as a child and she and her husband made the decision to homeschool their children as well! Beth transitioned her oldest from homeschool directly into Jr. High at a local Catholic school (now in high school) while she continues to homeschool her twin boys while balancing caring for her preschooler
Becky Marr – Becky is a wife and mother of 6 who has been homeschooling her kids for 5 years now. She attended public school and private school as a kid, but her first introduction to homeschooling was with her own children. She is a former public school teacher turned stay-at-home mom and now serves as the director of a homeschool co-op with over 60 families.
Karen Peterson – Karen homeschooled her two children (now adults) and found creative ways to address their unique learning styles and energy levels along the way. She now does private tutoring and homeschooling for students who have IEP's. She has experience homeschooling students with learning disabilities and special needs with the support of the public school system, grants, etc.
Beth Hoff – Beth is a work-from-home mother of two. She was homeschooled as a child, with a few years of public school and private school mixed in. She and her husband, who also works from home, now homeschool their 1st grader while balancing the needs of their 2-year-old.
Join us for this Free Live Q&A to hear from moms who are making it happen and get your questions answered!
Can't Make the Live Forum?
Don't Worry! Sign up anyway and we will email you a video of the replay afterward so you can watch it on your own time.